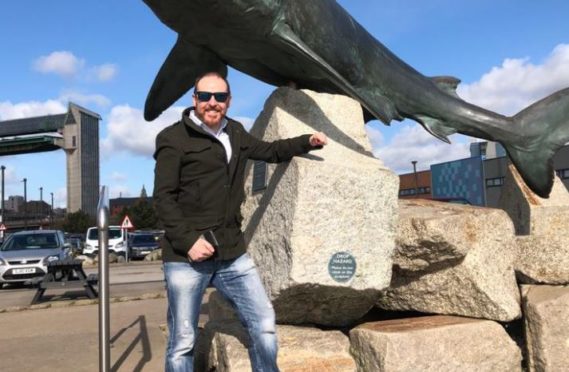 A north man now living in Banff is aiming to defy the odds as he battles rare terminal cancer.
Neil Bremner, originally from Aviemore, was diagnosed with Leiomyosarcoma – , which affects one in 20 million people – at the end of 2019.
The father-of-two has been told his form of the disease is so far advanced that he may only have months left to live.
The 43-year-old was told by medics that the cancer of the smooth muscle tissue has spread to his heart and lungs.
Chemotherapy is not an option for Mr Bremner as it will not assist in shrinking tumours due to the advanced nature of his diagnosis.
However, despite the devastating illness, Mr Bremner continues to retain his positive outlook on life as he cherishes each day by savouring every moment with his family.
He said: "It was a shock. We didn't even know what it was and the medics didn't even really know either.
"I am realistic. Quality of life for my family is most important.
"If I cling to life as all humanity does and if I am so desperate thinking 'maybe I'll be the first one that it will work, maybe it will give us more time', all that is going to happen is I will be ill for a very long time and spend a very long time in hospital.
"My poor kids are going to get dragged in and out of that the whole time and I don't want that.
"For me, it was a decision for a dad and for me it was a simple decision to say no.
"Now it is about each day and every hour. It is about trying to be positive and smile."
Now, friends of Mr Bremner have clubbed together to put on the North Hop for Neil event, which will take place at Morayvia in Kinloss on Sunday March 21.
Mr Bremner said he was shocked to have an event put on for him, stating that the response has "just been crazy".
He said: "It is just going to be a big smiling event. Raise a glass and toast to life.
"It is about appreciating each day and each hug with your kids and if that's what comes out of it then it's a job well done."
Mr Bremner, who is sharing his story in a bid to raise awareness of Leiomyosarcoma, has said if anything he hopes to leave behind a legacy as "the Highlander who smiled".
The event is scheduled to begin at 2pm and will run through until 8pm with some fine craft beer, spirits and local food on offer.
Live music will be provided by some of Moray's finest music acts, including The Zebecks, Scott Ramsay and Keon Pipers.