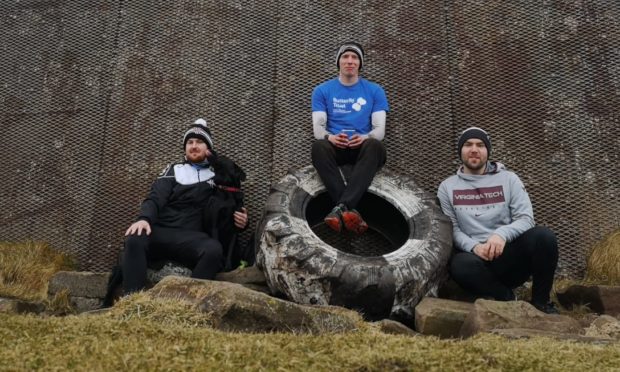 A Sutherland man has completed his quest to scale a 1,300ft hill by flipping a tractor tyre from the base to the summit – all in the name of charity.
Cameron Hook, who lives in Dornoch, undertook the challenge at the weekend in a bid to raise funds for a Cystic Fibrosis (CF) charity and his local football club.
On Saturday, he flipped his tyre 1,129 times with the ascent taking three hours and 57 minutes.
The Dornoch man was joined on the venture by teammates John Mackay and Chris Ross who provided support along the route, ensuring Mr Hook was able to reach his target time of under four hours.
Mr Hook said: "I am glad it's done.
"I am happy at being able to do it and people often ask me why I set myself these intense challenges and I think it's more because I can.
"I am physically able to go through this and I don't have any conditions that halts my progression or physiology as someone suffering with CF does.
"It went as well as it could. The support I have received has been amazing."
Prior to undertaking the challenge Mr Hook opened an online fundraising page with the upper figure of £5,000. However, he said yesterday he was delighted to exceed £2,000 with his inspiration coming through his cousin Katie Jefferson, who suffers from CF.
Miss Jefferson is currently awaiting a lung transplant after suffering from the genetic disorder for much of her life.
Mr Hook said previously: "The Butterfly Trust has just been absolutely brilliant with my cousin.
"Katie was diagnosed at such an early age that she has had it all her life and growing up together it seemed normal to me and wasn't as shocking as it maybe can be to others."
Yesterday his online fundraising total stood at just more than 40% of his desired total.
More funds are expected to be added to the tally, with offline donations adding an additional £200 to the final tally.
The page will remain live for a week or so to gather further funds should donors wish to contribute.
Part of the funds will be distributed to Dornoch City Football Club, whom the 28-year-old manages and plays for.
His training for the effort was months in the making where he flipped his tractor tyre the entire length of Dornoch City FC's home park at The Meadows.