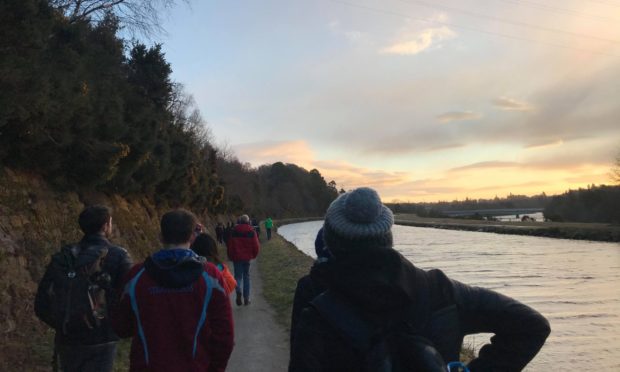 More than 50 people gathered on the banks of the Caledonian Canal for a memorial walk for "shining light" Lawrence Jones.
Mr Jones, from Inverness, took his own life a year ago.
However, those gathered at Bught Park yesterday opted to turn the anniversary into a positive experience and encourage people to speak out relating to mental health issues.
Organiser and former Strathglass Shinty Club teammate Eoghan Stewart said he was "really surprised and humbled" by the turnout.
He continued: "It was a joyful occasion in many ways but also a lot of reflecting on the sadness and confusion that will always surround this time of year."
Former teammate Jono Price held a similar event in Kuala Lumpur.
Mr Stewart added: "It is such a simple thing to do to raise awareness.
"By doing this, and taking in the sunrise, it is something so simple but so positive to the communities which are affected by this."
For anyone who needs support with their mental health, Inverness charity Mikeysline is available on 07779 303303.