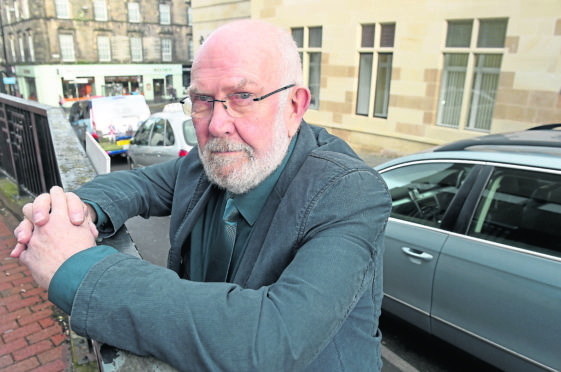 An Inverness taxi operator has "mothballed" his business for fear of spreading the coronavirus.
Andrew MacDonald, 75, owns seven cars which trade under Caley Taxis and Black Mercedes Taxis.
Mr MacDonald, who hires his vehicles to self-employed drivers and is chairman of the Inverness Taxi Alliance, said: "It is not possible for passengers to be separated by two meters from the driver or themselves."
In a public announcement on the firm's Facebook page, he added: "It is disingenuous to presume that this is achievable.
"I view it as irresponsible as the licence plate holder to expose the driver or the passengers to cross infection.
"Irrespective of what measures have been taken to 'sanitise' vehicles there is no 'cast iron' guarantee that an infected person from one journey cannot pass on the virus to a subsequent passenger.
"This position will be reviewed as things progress. Drivers who have expressed an interest in registering with Caley Taxis and Black Mercedes will be contacted and their details held on file until such time as it is prudent and permissible to resume our service."
Speaking to the Press and Journal by telephone from self-isolation, Mr MacDonald said: "If I'm not on the road, I can't infect anyone and they can't infect me."
His firm is mainly operated as a tour business during the summer months and for private taxi hire during the winter.
Inverness Taxis, the largest firm in the city, is still operating for essential movement only.
Owner Gavin Johnston, 55, said his workforce had been reduced by 70%, for a combination of reasons.
Some of his drivers are in self-isolation and there has been a downturn in business because members of the public are not moving about as they used to.
Mr Johnston said: "We have got to continue working. We are transporting key workers. We are taking people to the hospital. We have social work staff to look after. We don't have an option, we have got to keep operating."
A Highland Council spokeswoman said: "The NHS Scotland or Scottish Government have not yet issued anything to say taxis cannot operate and other areas of Scotland there are examples of taxis offering to transport hospital workers for free.
"The national message is people should not be going out and about unless their journey is vital.
"However things change on a daily basis so once any national guidelines are shared with Scottish Councils, we will pass this info on to Highland taxi operators."