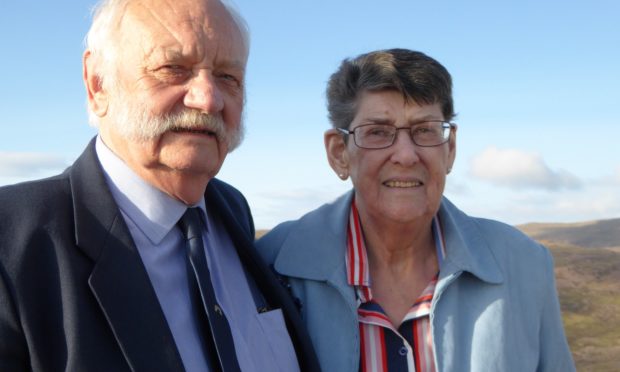 A retired couple who spent more than 30 years in the licensed trade have had three milestone celebrations put on ice by the coronavirus lockdown.
Dan and Ruth Marshall are both 80 this year and next month will be their diamond wedding, marking 60 years of marriage.
But instead of a series of parties with family and friends, their special year has turned out much quieter due to social distancing restrictions.
The couple, who retired to Lochcarron 20 years ago, were both born in Edinburgh in 1940 and were married in 1960.
Ruth turned 80 in April, with family and friends only able to join her big day virtually via video links. Dan has also postponed a celebratory drink with friends to mark his birthday in June.
Dan said: "It's a shame. We will miss out on the celebration of our anniversary with family and friends. Ruth already missed out on her 80th, and it will be the same for my 80th.
"However, we feel we are lucky, we are still here and can celebrate at a later date."
Instead of a planned anniversary party on 1 June with around 40 people, the couple will now have a few drinks in their garden and ask people to drop past at a safe distance: "That way we can see a few people and they can maybe give us a cheer."
Dan followed his father into the licensed trade and started his first bar manager's job in 1958. He and Ruth ran their first business together in Culcross, Fife, from 1966-72.
Over 33 years in the business, the couple, who have three children and six grandchildren, worked at eight other premises as owners, licensees or caterers until they retired in 1999. It included spells at the Garve Hotel in Ross-shire; Royal Findhorn Yacht Club; Cruden Bay Golf Club and the Aultguish Inn in Wester Ross.
While at Aultguish, Dan was presented with two canvas bags containing more than 300 keys, including some to Scottish lighthouses, by a regular customer. They later inspired him to research and write a book 'Keys to the Light'.
But he said both his high and low points of their career came while they owned the Garve Hotel: "We always wanted to have a Highland hotel and when we go it that was the highlight."
However, a later fuel crisis led to loss of trade when people cut back on travel and the premises had to close.
He said there are parallels with the lockdown today affecting the licensed trade: "It's terrible what the trade is going through. The worst thing is not knowing when they are going to open again. Not everyone will come back from this."