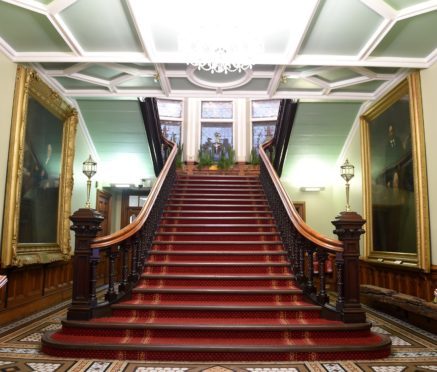 Builders are preparing to return to the sites of two north landmarks as construction work recommences.
Preservation works at Inverness Town House and Nairn Courthouse ground to a halt back in March as the coronavirus pandemic took hold.
Dozens of Highland Council housing projects including developments in Torvean, Academy Street and Slackbuie have also been unmanned for weeks due to the restrictions.
But, in accordance with national guidance, contractors are now preparing to return to work as part of an agreed phased six step restart plan.
The move has been welcomed by politicians and union representatives alike.
MSP for Inverness and Nairn Fergus Ewing said: "I warmly welcome resumption of this work.
"The construction sector is very important to the North of Scotland and we enjoy considerable expertise and experience. We need therefore to see it back to work and to ensure a steady supply of public sector projects in future."
Contractors from Laing Traditional Masonry will return to both the townhouse and the court sites to commence the final phase of works on the historic premises as part of the 'soft start" approach.
Scotland's largest local authority have been supplied detailed plans by contractors for safe working, with physical distancing through one-way systems and hand hygiene.
Measures will be implemented at various council developments across the city this week including projects at Upper Achintore former school in Fort William and Dingwall High Street.
Chairwoman of the council's development and infrastructure committee Trish Robertson said the development was vital for both prospective tenants and construction workers.
She said: "It is great news not just for the families waiting to move into new homes, but it is also good news for the Highland construction industry and all associated trades.
"Providing top quality affordable housing remains a priority of the council and over the next few weeks work will start on more sites throughout the Highlands to deliver over 300 new council homes."
Regional officer for Unite the Union Richard Whyte appealed for stringent measures to be implemented to protect workers.
He said:"We should continue to open up the construction industry slowly and safely. There is no return to the past and the safety of our members and their families is our number one priority.
"Proper risk assessments and safe systems must be ensured, and Unite will be closely watching and monitoring developments.
"It's also important to state that we welcome new affordable council homes being built for the people of the Highlands."
Phases one and two of the £4 million restoration project on the Inverness Town House, owned by the Inverness Common Good Fund, were conducted over a three-year period with extensive renovations to the Grade A listed building.
The third phase of works on the city landmark will involve full stone repairs and replacement to the exterior of the building as well as mortar re-pointing, guttering and window repairs and replacement.
Provost of Inverness Helen Carmichael said: "Everyone is keen to see work start up again on the final stage of what has been a very important project to safeguard the Town House building for many generations to come.
"A lot of careful planning work has gone on over the last few months in order for us to get to this stage of being able to resume work so I would like to thank everyone involved. The final work needing to be completed is in sight so I look forward to seeing the team back on site."
Work at Nairn Courthouse is also entering their final stage with scaffolding due to be brought down following the installation of the viewing tower windows and completion of leadwork at the clock and parapet level.
External lighting will be installed which will highlight the refurbished tower and stonework alongside two flagpoles will be installed to the front façade of the building.
Chairman of the Nairn Committee Tom Heggie said: "The courthouse is a much loved building in the heart of the town. Its great news that this highly skilled restoration work is to resume and I look forward to the tower being brought back to its former glory."
A Unison spokesman said: "We are pleased to hear that work will be recommencing on these important infrastructure projects within the Highlands. Such building projects not only gives much needed income to the building industry with the Highland region, but ultimately provides much needed local authority housing.
"We are really pleased to hear that before the projects commence, the builders will be providing the Highland Council with the details of how they will provide safe working environments for their employees in the Covid 19 times."
The announcement comes days after officials from the Western Isles Council confirmed construction works will restart on projects including the new care home and social housing at Goathill, Stornoway, improvements to Lochmaddy Pier in North Uist and extensions to early years provisions at Stornoway Primary.