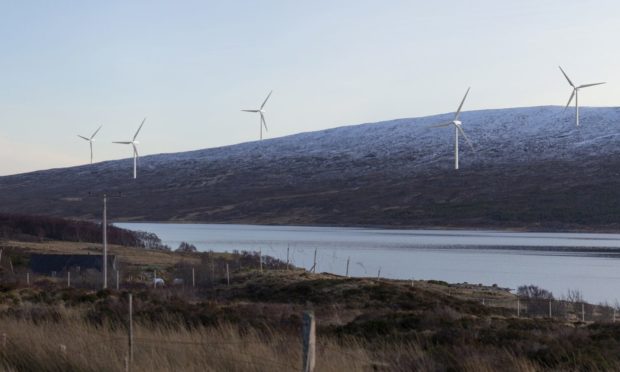 Proposals for a wind farm in Sutherland have gone out for public consultation, with the pledge of six figure community benefit payments.
Situated on the Sallachy estate some 12 miles north-west of Lairg, the nine turbines would rise to 162ft and come with associated infrastructure such as access paths, electric cabling and an onsite substation.
Developers WKN PNE Group are offering up to £200,000 annually in the form of community benefit to be split among the community councils of Lairg, Creich, Arday and North West Communities (Scourie, Kinlochbervie and Durness).
The communities have signed a memorandum of understanding with the company, which has pledged £5,000 per MW annually to them.
They are also offering the communities of central and north-west Sutherland the opportunity to own collectively up to 10% of the equity in Sallachy wind farm, with Local Energy Scotland currently providing advice to the community.
The developers also say they will operate a bespoke Highland-wide procurement policy which will offer local contractors advantages when tendering for contracts such as electrical, fencing, civil engineering, enabling works and the provision of accommodation and site security.
In response to the pandemic restrictions, WKN is offering public consultation this month in the form of telephone conferences, general public webinars and locality specific webinars.
These start on July 15 for Lairg residents and continue during the rest of the month for residents of the other communities.
The site is approximately 2,500 acres of open moorland sloping down to the shores of Loch Shin.
Access would come from the A838 along an existing access track through the Merkland Estate, serving the Cassley hydro-power station.
WKN says it have chosen the site based on its limited impact on local settlements, straightforward grid connection, excellent wind speeds, ready accessibility and distance from national designation.
The group envisages a 30 year lifespan with grid connection from 2023 and says it will be developing a design which minimises the impact of the proposed development on watercourses, ecology and bird interests, cultural heritage, landscape and visual effects and peat depth.
The small footprint of the windfarm ensures it will affect a limited part of the views, the company says, negligible impact on Glen Cassley  and localised impact along Loch Shin.
Kaye Hurrion of Lairg and District Community Initiatives said: "As the host community, we have been engaged with the developers on the wind farm and have gathered the opinion of local residents.
"We have long been in discussions around the benefits the development could bring to Lairg and have supported exploring shared ownership of the wind farm further.
"The economic benefits investing in the site could bring to the village could make a real difference."