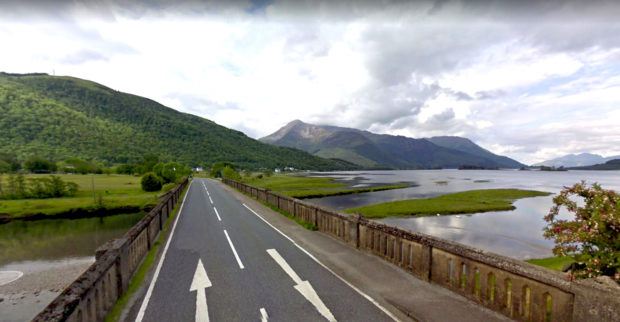 Work to replace a crumbling bridge in Glencoe will begin in the coming months – with the search for a contractor now on.
The £3million project to demolish and replace Invercoe Bridge has finally been approved, with work due to begin in December.
Cracks are appearing on the concrete crossing, which goes over the River Coe on the B863 Glencoe to Kinlochleven road, prompting safety fears.
It will be replaced with a 196ft two-span steel bridge, with the work estimated to take 12 months in total.
A temporary crossing will be put in place during the project.
Now Highland Council has launched the search for a contractor to carry out the works.
Councillor Andrew Baxter said: "I am delighted to hear this news.
"The local communities have waited many years for this replacement bridge at Invercoe. In fact, it has been waiting for council funding for over a decade and before I was elected for the first time.
"This bridge is on a lifeline road that serves Invercoe and Kinlochleven and also forms part of the long-distance Argyll Coastal Route.
"I'm pleased that the council has worked with local councillors and residents to time the work so as to limit disruption."
Fellow Fort William and Ardnamurchan councillor Niall McLean echoed his colleague's joy.
He said: "It is good that this work looks to be going ahead because it has been needed for quite some time.
"The bridge has known to be in a rapidly deteriorating state for some time now so we need to get a replacement constructed.
"It is the main route into Kinlochleven and will secure that link.
"There is also a section of houses and a campsite on the other side of the bridge from Glencoe which are accessed by it, so without that bridge, it would be a long way around the loch.
"I am delighted that this is happening."
A spokesman for the local authority said: "The Highland Council is currently inviting tenders for the construction of a replacement bridge on the B863 at Invercoe.
"The existing concrete bridge is reaching the end of its life and is to be replaced by a new two-span steel bridge.
"The contract will include the provision of a temporary road bridge, demolition of the existing bridge and the construction of the new bridge."
The bridge will also serve to support the influx of tourists to Glencoe. In 2018, there were 200,000 visitors to the village recorded.