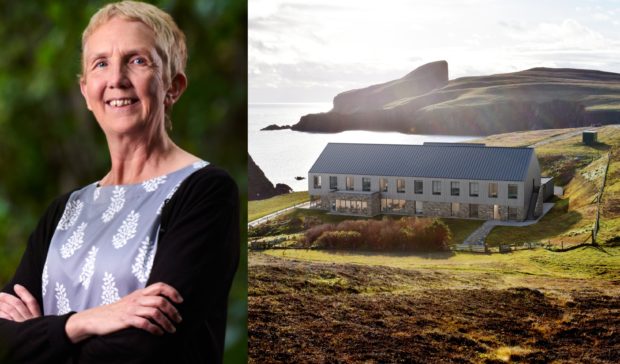 Author Ann Cleeves has backed calls for government support to rebuild the Fair Isle bird observatory which was destroyed by fire last year.
Orkney and Shetland MP Alistair Carmichael has tabled a parliamentary motion seeking a commitment to fulfil a pledge of support from then Prime Minister Theresa May last year.
Planning permission has been granted for a £7.4 million revamped observatory and a crowdfunding appeal for £650,000 has so far raised more than £130,000.
Ann Cleeves, the creator of the Shetland crime series, who is patron of the observatory, said: "I'm delighted that we've already had so much support for the appeal to rebuild the bird observatory.
"Fair Isle is a unique community and the observatory provides employment, scientific research and a place for visitors to stay.  It's more than a building.
"Of course, it would be terrific if the government could contribute to bringing this special institution back to life."
Following the fire, Mr Carmichael raised the issue with Mrs May who expressed willingness to support the rebuilding. He said there is a precedent with the UK and Scottish governments helping rebuild Glasgow Art School.
He said: "It is testament to the dedication of the trust that the rebuild appeal has gained such momentum already. The observatory is vitally important to the economic and social fabric of Fair Isle.
Mr Carmichael said the new facility will boost the tourism on the island and secure world-class ornithological and marine biological research.
"It is crucial we all get behind the rebuild appeal to ensure the future prosperity of this vital community."
"Progress has since been made locally to secure planning permission for a new building; now is the moment for government to match their willingness of support with appropriate funding."
Douglas Barr, chairman of the observatory trust, said: "We're delighted that Alistair has raised the issue of funding again in Parliament, and hope that the government will indeed follow through on its promise to provide financial support for the rebuild."
Renowned ornithologist and the trust's honorary president, Roy Dennis added: "It's essential we get the observatory back. We are really pleased at the response- it's a lot of money to raise and any help we get from the government or anyone else will be extremely appreciated."
A Scotland Office spokesman said: "Environmental policy is devolved in Scotland. We understand how difficult losing the world-renowned centre has been on the local community and hope it receives support from the Scottish Government to rebuild the centre."