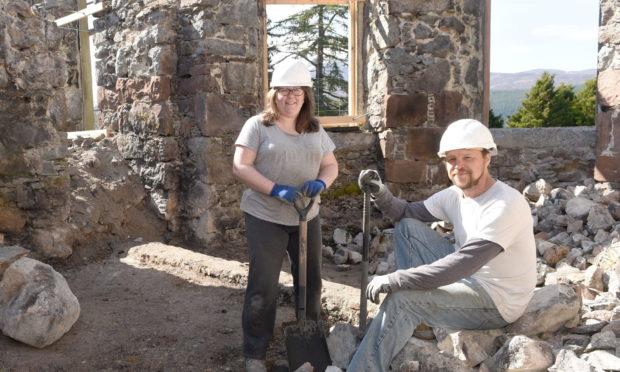 A north couple who are renovating the former home of "the wickedest man in the world" said they feared for their safety after being stalked by a man who became fascinated by the occult.
Panagiotis Pierrakos was this week forbidden from attending Boleskine House after scaring Keith and Kyra Readdy by repeatedly appearing at the property while they were restoring it following two devastating fires.
The 48-year-old frequently visited the B listed building, which was previously owned by occultist Aleister Crowley who famously proclaimed himself the "wickedest man in the world". It was also previously owned by Led Zeppelin guitarist Jimmy Page.
Inverness Sheriff Court heard that on May 15, Pierrakos was seen walking towards Boleskine House and, due to his previous visits, police were called. The court was told the couple heard a knock at the door and Pierrakos pushed his way in past Mrs Readdy.
He subsequently twice broke bail conditions which had been placed on him ordering him not to approach the property's Gate House before another incident on July 17.
Fiscal depute Pauline Gair said when police approached him, Pierrakos threw a punch before he was grappled to the ground and handcuffed.
Ms Gair told an earlier hearing: "The history of the house seems to be an attraction, especially to occultists who followed the activities of Aleister Crowley at the beginning of last century."
Last night Mr Readdy said he was relieved the case was over and said: "I hope that's the end of it.
"I'm glad it's done with I do hope he gets the help he needs."
He said when Pierrakos turned up at first he helped shovel some rubble for Mr Readdy. He added: "I think he mistook our kindness for friendship where there was never a friendship. He showed up one day, I fixed him a coffee and then sent him on his way.
"When he came back again I asked him why he was back and he just said he liked the place. He said the place was important to him. But it got to the point where I had to call the police every time he came and it just escalated.
He said Pierrakos visited the house "five or six times".
He added: "My wife felt extremely violated by it, especially when she was pushed through the threshold. That was the last straw for us.
"I certainly feared it could have got more serious. I didn't know the guy well and didn't know what he was capable of. You never know how things can escalate. I certainly felt like my safety could have been threatened if he continued and was not be taken care of by police. My wife felt that way too."
The couple bought the house in 2019 and set up a foundation to rebuild the ruin into a visitor attraction.
Mr Readdy said they did not foresee the interest in the building's connection to the occult. He said: "When we thought about doing it, we thought it was the property development project of the century.
"We did not anticipate the crazy factor the place can attract and we are having to navigate it as we go along, as if rebuilding the place isn't hard enough. But it's something we are learning to deal with."