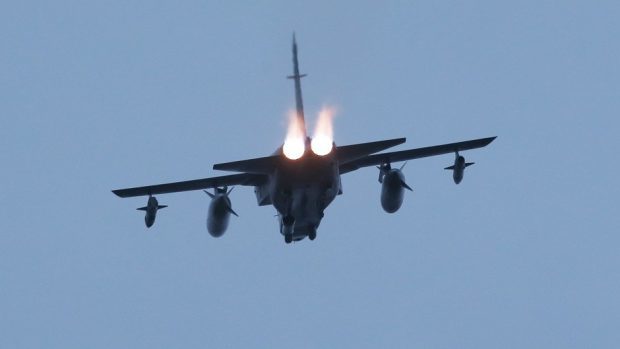 Militaries from around the world assembled in northern Scotland over the weekend for a major war games event.
More than 3,400 Nato troops are taking part in the two-week land, sea and air exercises known as Joint Warrior.
A total of 22 ships, four submarines and more than 40 aircraft from a dozen NATO nations and three partner countries are taking part.
There will be increased activity at RAF Lossiemouth in Moray, the Cape Wrath and Benbecula firing ranges and Faslane naval base on the Clyde while the event is held.
About 1,500 personnel from the Royal Navy, British Army and Royal Air Force are participating, alongside those from Belgium, Canada, Denmark, Finland, France, Germany, the Netherlands, New Zealand, Norway, Poland, Spain, Sweden, Turkey and the US.
Captain Andrew Stacey of the Royal Navy is responsible for the planning and delivery of Joint Warrior.
He said: "Joint Warrior remains a unique opportunity for UK, Nato and partner nations' forces to train alongside each other and test their capabilities in an operationally realistic and challenging environment.
"The complexity of the exercise, which is always evolving, supports maritime, land and air training at large scale and delivers intense scenarios that drive our combined war-fighting capabilities."
Last year, Joint Warrior was linked to the Nato military exercise programme to allow the alliance to send specific groups to participate, including Standing Maritime Groups, Maritime Counter-Measures Groups and Nato Airborne Early Warning Aircraft.
Training regularly focuses on anti-submarine warfare, anti-surface warfare, submarine training, mine countermeasure training and maritime security operations.
On land and in-the-air, the exercise trains UK forces and its allies in air operations, close air support, tactical intelligence surveillance target acquisition and reconnaissance, electronic warfare training, jamming operations and joint firing.
This year's second international military event in the region, in October, will feature Nato's first "robot wars unmanned warrior" spectacle involving drones both airborne and underwater.
Leading manufacturers of the technology have been invited by the navy to demonstrate the capabilities of their latest creations.