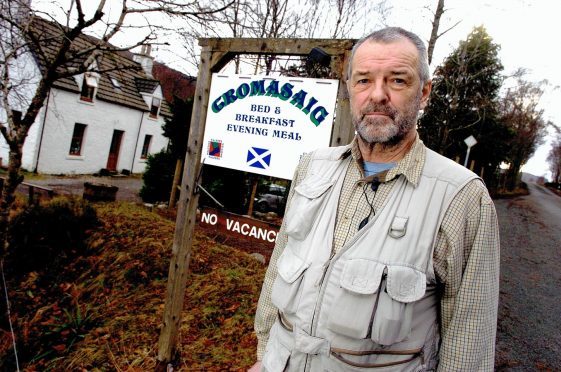 A Highland B&B owner has been flooded with emails from gay activists in a reignited row over legislation that bans tourist operators from refusing homosexual customers.
Tom Forrest, who has run his business at Kinlochewe, Wester Ross, since 1993, is baffled why the issue has resurfaced.
He has stated on his website for many months that his business is a "family and heterosexual friendly B&B."
It also carries the mantras of "freedom of speech is our right" and "freedom of choice is our right" – indirect references to who he feels can and cannot stay under his roof.
Mr Forrest, 69, said: "We've been bombarded by emails and reports to the police and goodness knows what else.
"They're hammering our online pages. I reported it to the police because I find these emails offensive.
"Yet again, we're being attacked by these people because we state we're heterosexual friendly."
Among promotional material about the Torridon area and the accommodation the couple provide, the site also states that "marriage is between one man and one woman."
Mr Forrest said: "We can't take the email address down. We can't remove the telephone number. My wife Liz is a first responder, anyway, so it's effectively an emergency phone."
He reaffirmed a declaration he made five years ago, that he was prepared to go to jail rather than be forced by new Scots law to accept gay couples as guests at Cromasaig B&B.
A spokeswoman for the police confirmed that the force had received a request from a member of the public for advice on a matter concerning emails and that "suitable advice was given."
It is understood that no hate crime was detected.
Kevin Crowe, a spokesman for the Highland Lesbian, Gay, Bisexual and Transgender Forum declined to comment on Mr Forrest's situation.
But, in relation to the legislation, he said: "Every business is now aware that they cannot discriminate against people. A lot of B&B owners, of course, work from home and some have claimed that because it's their home they should be exempt.
"My view is that if their home is a workplace they should be covered by the same rules as every other workplace – that includes health and safety legislation and equality legislation.
"I would advise anyone who believes they have been refused accommodation on the grounds of their sexuality to go to the police."