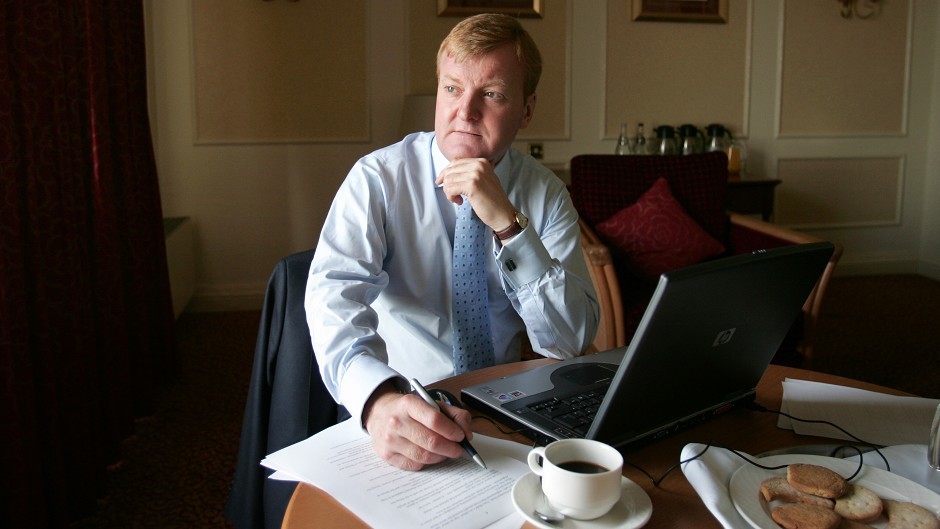 Charles Kennedy's family is determined to remember the good times they shared with him as they face the first anniversary of his death.
It is almost a year since the popular politician, who was leader of the Liberal Democrats for seven years yet transcended party divides in his friendships, died suddenly in his Lochaber home aged just 55.
Family, friends and colleagues will be in attendance at a service to unveil a stained glass window in his parish church on Wednesday, the anniversary itself.
But just a few days before that event, his brother Ian described the approaching milestone as "a difficult time for all the family".
Mr Kennedy, of Lochyside, Fort William, said his brother – who lost his Ross, Skye and Lochaber seat just weeks before his death – was sadly missed.
Ian Kennedy said: "His anniversary is a difficult time for all the family, but we can also remember the good times.
"He was straightforward and honest.
"Being down at the House of Commons didn't change Charles at all. He was just the same – just like any other local."
He added that he thought the stained glass window to be unveiled at St John's Church at Caol at 7pm would be a fitting tribute to his brother and their parents Ian and Mary, who provided the music for the vigil mass at the church for more than 40 years.
He said he would be attending the service, but his brother's ex-wife Sarah Gurling and their 11-year-old son Donald were unable to do so.
However, he stressed that they had been involved in the project.
Charles Kennedy, an MP from 1983 until last year, was a close friend of Tony Blair's former spin doctor Alastair Campbell – a relationship strengthened by their well-publicised experiences with alcohol and addiction.
The journalist, broadcaster and author said: "I think about Charles often and I often mention him in talks I do, both to political audiences to remind people of a politician who spoke fluent human being, and to campaign meetings about alcoholism and addiction.
"People always remember Charles with real fondness and respect and we could have done with him in the referendum debate right now.
"I spoke at the Glasgow University debating society dinner to remember him after a debate which won a 100 per cent vote for Remain (in Europe). He would have liked that."
Charles Kennedy's parish priest Father Roddy McAuley, who will be conducting Wednesday's service, said: "Charles was a very quiet and humble man, who always sat at the back of the church – he was one of our backbenchers.
"At times like this, we just hand him over to God and remember his family in a quiet reflective way."
Lochaber High School head teacher Jim Sutherland described the politician as their best-known former pupil.
He said: "Throughout his life Charles maintained a keen interest in the school, supporting modern studies classes and keeping up with developments from building improvements to curriculum change.
"Charles' untimely death last year was a great loss to Lochaber High School, as it was to the wider Lochaber community and indeed the whole country.
He added that the school had been proud to name its newly opened library the Charles Kennedy Library in his memory.
Former Labour MP for East Lothian Fiona O'Donnell, who took part in many debates with Charles Kennedy while they were both pupils at the school, said: "Charles was one of the most gifted politicians of our generation, but what really made him stand out was his love for the part of the Highlands where he grew up.
"As much as his intellectual and political gifts, it was his, and his family's, deep roots in his community that made Charles a brilliant MP for the area.
"An exceptionally gifted orator, he seemed so at home in the House of Commons, but he was most at home in Lochaber."
Ms O'Donnell added that her enduring memories of Charles Kennedy were of their school years.
She said: "He was sociable and funny, and loved any opportunity to perform.
"He was always striving to improve himself."