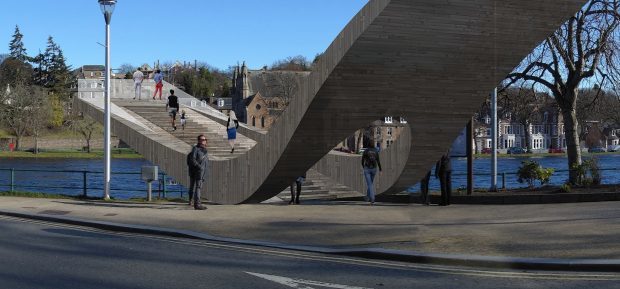 An Inverness councillor is staggered that one of the hottest topics – the so-called Tilting Pier – has failed to make next week's city committee agenda.
Opposition SNP group deputy leader Richard Laird has urged the provost Helen Carmichael and her co-chairman of the city's arts working group Thomas Prag to give it an airing.
In an email to the provost, he said he was "surprised and disappointed" that there was no opportunity to review the process.
Councillor Prag said the content of the agenda was a matter for city manager David Haas.
The working group yesterday (FRI) revealed its latest proposals for the £300,000 tilting platform project to a select, invited audience. The media will be shown the revised proposals on Monday.
In the wake of public consultation, more than 900 people have backed an online petition urging the council to scrap the pier proposal.
As of yesterday, (FRI) a rival online petition pledging support for the pier proposal had attracted 26 names.
Objectors are angry about the cost and the latest proposed site for the fixture, on the riverside outside Eden Court Theatre.
The group's previous choice of Friars Shott in Huntly Street was blown out of the water after a flood of complaints.
Councillor Laird suggested yesterday (FRI) that the public had "lost confidence" in the working group overseeing the broader £760,000 publicly funded riverside arts project.
Referring to two public consultations that rejected the pier – or "Gathering Place" – idea, he said: "The public has taken a very vocal interest in it. There's widespread opposition to it at any location.
"This the first meeting of Inverness councillors since it became a big public story. It's the first opportunity councillors would have to discuss it and I think we should. The provost and the council cannot ignore public opinion.
"There are demands that this project is cancelled and it's up to this committee to do that. It's a debate that must now happen before any more time and money is spent on this."
Government agency Creative Scotland has guaranteed £305,600 for the artworks and development agency Highlands and Islands Enterprise has promised £66,000.
The city's common good fund will contribute £280,750 and the council £106,000.