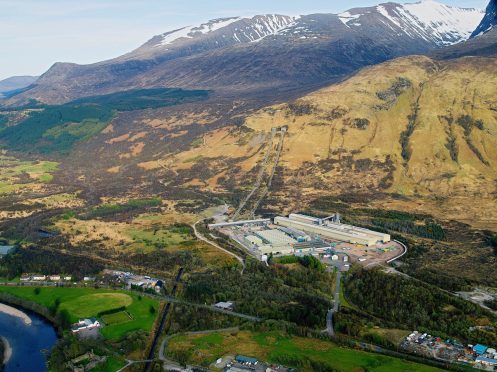 More than 500 people have signed up to the trust behind plans to purchase the Rio Tinto estate, which would be the largest community buyout in Scotland.
And politicians from three of the major parties have written to company bosses stressing the importance of retaining Lochaber Smelter, which is the last aluminium smelter in the UK.
East Lochaber and Laggan Community Trust – set up to buy the 125,000-acre estate – is encouraging more people to sign up as members to show their support for the ambitious scheme.
It is also asking local people for ideas for community projects and business opportunities for the estate if the buyout goes ahead.
In a post on a social networking site, the trust said: "As we move forward, we will need to show community support through a strong membership.
"Already we have more than 500 applications and growing.
"Over this week applications will be processed and those who have applied will receive confirmation.
"Please encourage neighbours, relatives and friends to apply for membership through the website."
Another post asked what locals would like to see happen on or around the Rio Tinto estate.
It said: "Community projects and business opportunities will be a vital part of successful community ownership, so please let us know what you think can or should be done – if the trust is successful in purchasing the estate."
The trust does not intend to bid for the smelter and the main hydro power stations, but is keen to work with partners with that aim to help save the 150 Rio Tinto jobs in Fort William.
Meanwhile, two Labour MSPs and their colleagues from the Conservative and Green parties have written to Lochaber Smelter general manager Brian King and Patrick Tobin, who is vice president of business development at Rio Tinto.
The letter from David Stewart, Rhoda Grant, Donald Cameron, Douglas Ross, Edward Mountain and John Finnie says: "We, as a group of Highlands and Islands MSPs from a range of parties, urge Rio Tinto to retain the smelter in Fort William, either within Rio Tinto ownership, or bought by another aluminium smelting company.
"We believe this way forward can guarantee both direct and indirect jobs.
"We want to stress that retention of the plant as a going concern will not only protect the Lochaber economy, but also the wider Scottish and UK economy, keeping skilled jobs at what is the last smelter in operation in the country."
They also welcome the move by East Lochaber and Laggan Community Trust to investigate the potential for the community to purchase the estate, which they describe as "an exciting prospect for the people of Lochaber".
Their letter concludes: "Ultimately, Rio Tinto has the final say on what happens next, but we all believe that the company being rooted in Lochaber would be the best outcome."
Anyone living in East Lochaber and Laggan who wishes to become a member of the trust or to suggest possible uses for the estate can do so on the trust's website at www.eastlochaberlaggan.scot