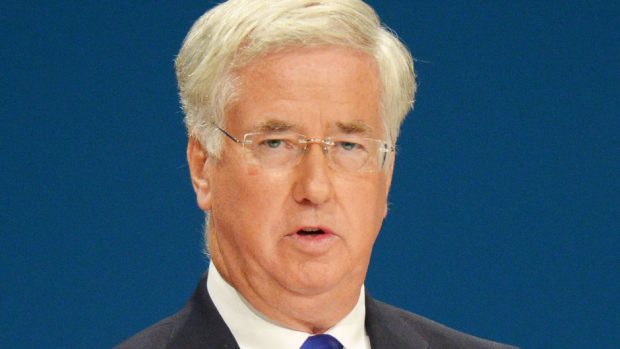 Sir Michael Fallon has said that Fort George is no longer needed as an Army base – because the days of Highland rebellions are long gone.
The defence secretary – who provoked anger this week by confirming that Fort George would close in 15 years – defended the decision, saying: "We shouldn't be making troops sleep inside monuments."
Fort George was built in the years after the 1746 Battle of Culloden to help pacify the region following the Jacobite risings.
Since 2007, the barracks has been home to the Black Watch battalion, which can trace its origins to the "watch" companies set-up to patrol the Highlands in the period.
Sir Michael said that such barracks were not required in specific regions today, because there is no longer such conflict.
In an interview with the Press and Journal, he said: "The Black Watch was called the Black Watch because it was to sit watch over rebel activity in the Highlands. We don't need to do that."
He added: "It's always disappointing when a decision like this has to be made. It was taken on military advice. It was a very expensive barracks to maintain and almost impossible to upgrade.
"There's plenty of time to find a new HQ for the Black Watch and plenty of time to consult with the local community about the future of the barracks.
"We shouldn't be making troops sleep inside monuments. They deserve better accommodation."
Asked if the P&J's Fight for Fort George campaign had influenced the decision to postpone the closure for 15 years, Sir Michael said: "Yes, we were very much aware of the history of Fort George and the importance of many bases (in communities).
"They are all the more important the further they are from centres like London and Edinburgh. These were all difficult decisions."
He added: "(It was) partly to give everybody plenty of time to consider alternative uses but particularly also to soldiers and their families time. There's plenty of time before their next move, which will bring them closer to other units."
The Cabinet member confirmed that nearby Kinloss Barracks in Moray had also been considered for closure, but was spared the axe.
"We looked at every base including Kinloss but Kinloss is close to Lossiemouth, which will be expanding. The runway at Kinloss also fulfils a role," Sir Michael said.
He dismissed claims that Scotland had been treated unfairly in the defence review, saying: "Scotland has not been worse hit than the rest of the UK, I want to put that to rest.
"Scotland is getting additional military at Lossiemouth and Faslane."