A family stood and watched as a devastating wildfire came within yards of their home in the hills above Loch Ness.
Marsaili Munro, her husband Ian, their three children and six guests at their B&B were on guard to evacuate as the flames closed in on their house.
The family's horse Skye came up to the house and was knocking at the back door to try and alert her owners.
The blaze, which was battled by firefighters from across the north, was finally stopped after burning the fence posts at the end of their garden and scorching their lawn.
The fire eventually destroyed an area of land more than a square mile.
The area near Loch Duntelchaig has been regularly afflicted by wildfires in recent years – but none have come as close to the Munros' house, a few miles from Dores.
Mrs Munro, 38, said they had spotted the fire on a hillside in the distance and watched from their conservatory with husband Ian, daughters Arwen 13, and Zarah, 10,
Initially the fire appeared to be heading away from the house – but then changed direction and came straight towards them.
Mrs Munro said: "It was pretty sudden, it was just like it turned a corner and came straight towards the house."
She added: "The fire brigade were brilliant, keeping us informed about what was happening and telling us it was all under control..
"We just tried to keep as calm as possible.
"But we were definitely looking out the photo albums and that kind of thing. We were ready to go if we had to."
She admits they were "lucky" that the fire was stopped so close to their home, which the family have built themselves.
The Munros one-year-old son William slept through much of the drama – while Skye, the 27-year-old pony was also no worse the wear for the experience.
Mrs Munro said: "She was rattling at the door handle.
"She's fine though, nothing much fazes her."
The fire service confirmed they had first been notified at about 7.35pm on Wednesday.
As well as protecting the Munros home, the firefighters were also able to prevent the blaze from spreading into a nearby area of woodland.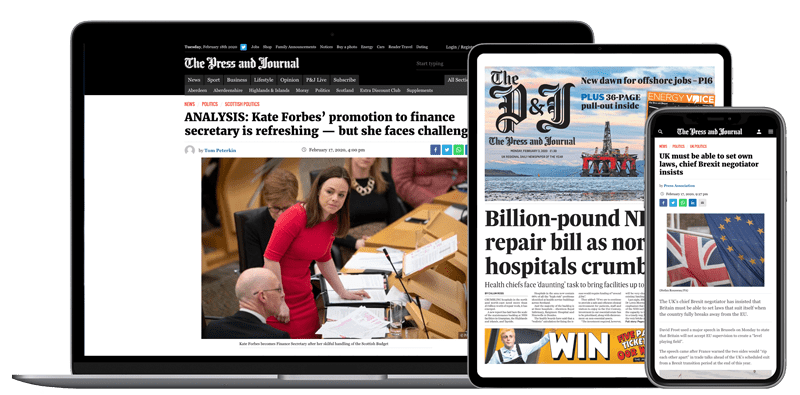 Help support quality local journalism … become a digital subscriber to The Press and Journal
For as little as £5.99 a month you can access all of our content, including Premium articles.
Subscribe