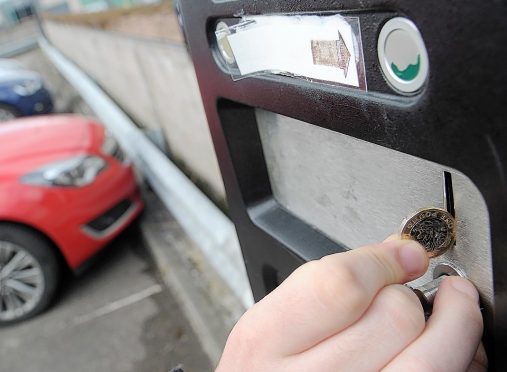 A number of privately operated car parks are still playing catch-up with new currency.
New pound coins were introduced last month – and a combination of new and old coins are currently in circulation.
However, the situation has impacted on car park operators, where machines need to be re-calibrated to accept the new coins.
Among them are the car deck on Rose Street and the Smart Parking site on Strothers Lane.
The two-level Rose Street car park was taken on Inverness Properties from Highland Council as part of plans to develop the area.
Charlie Barbour from the company said they were made aware of the issue last week and are now working on a compromise solution.
He said: "We're in a kind of annoying period just now where there are old and new pound coins in circulation.
"We currently have four machines at the car park, two on top and two on the bottom level and they are currently only able to accept old coins.
"We can't configure them to accept both so what we're going to do is have two of the machines, one on each level, set up to take new coins and leave the others as they are as a compromise.
"We'll put signs up to make sure people know what the arrangement is."
A spokesman for Smart Parking said: "We are currently updating our machines across our site, and this process will be complete within the required government guidelines."
The new 12-sided £1 coin was released into circulation on March 28.
From October of this year, businesses will stop accepting the old style £1 coins.
The new coins are slightly thinner and lighter than older ones, meaning machines do not recognise them.
In Inverness, the council-run multi-storey car park on Rose Street has been adjusted to accept old and new coins.
The council has previously confirmed it is having to fit replacement parking meters across Fort William and Skye because they are not compatible with the new currency.
The machines will be changed over in the next three months.