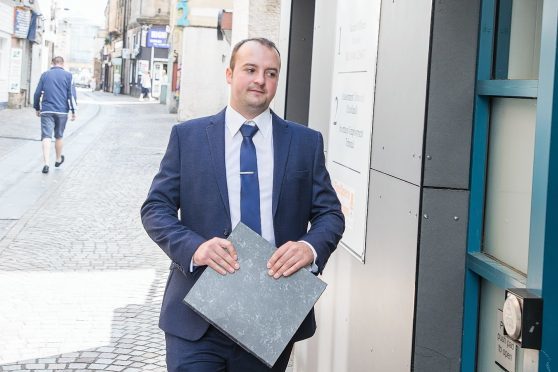 A whistleblower has spoken of the moment he was left "covered in blood, crying and terrified" after being attacked in bed by a colleague.
Robert Taylor, 28, had his two front teeth knocked out, required five stitches in his head and has since suffered from post traumatic stress disorder.
And now the Black Isle-based electrician has taken his former bosses at G&A Barnie Group to an employment tribunal, claiming he was effectively forced out of his job due to events before and after the incident.
On the first day of the hearing yesterday, Mr Taylor said he had raised concerns with supervisors last year while working in Shetland.
He said he raised issues over the treatment of apprentices, contractors smoking in work vehicles and taking days off after drinking, but claimed he was verbally abused and threatened by supervisors.
Alex Barnie, managing director of the firm, later spoke to Mr Taylor about the issues, but the electrician told the tribunal he was given a "strong dressing down", made to apologise and warned his job could be at risk.
Then on September 25 last year, Mr Taylor was severely injured in an assault by Darren Pollock, his roommate and a fellow G&A Barnie Group employee, when the attacker tried to take a woman home after a night out.
Mr Taylor said: "I was woken as I was being repeatedly punched on the face head.
"I could feel blood running down the back of my head and coming out of my mouth and nose.
"I ran out of the bedroom fearing for my life. I was out in the street naked and hid behind a car across the road. I was covered in blood and crying and terrified."
Mr Pollock, a 30-year-old from Inverness, has pleaded guilty to the assault and is awaiting sentence.
Six days after the attack, Mr Taylor said he was left "shocked" after receiving a phone call from Mr Barnie who wanted to know if he would be at work on the next Monday.
On October 31, "after five weeks of no communication", Mr Taylor said he received an "aggressive" letter from the firm asking for a GP's report on his condition, and then felt he had "no option" but to resign.
Days after he quit, Mr Taylor heard that Mr Pollock had been re-employed by the company.
Mr Barnie's representatives will respond to the constructive unfair dismissal claims when the tribunal resumes today.