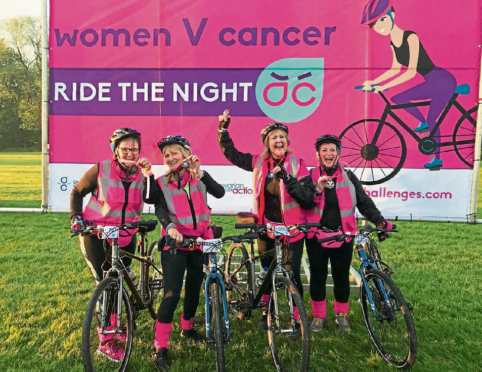 Two Inverness women have completed an overnight cycle of more than 64 miles through London to raise funds to battle cancer.
Hilary Cameron and Jenny Sculthorpe along with Shieleen Bremner and her sister Rae Cooke joined thousands of other riders.
The four women took part in the Women V Cancer Ride the Night as team Legs Miserables and completed the course in just over six hours.
They set off at 10.15pm and on a route that took them on a figure of eight through London Eventually finishing at 6.30am.
Mrs Cameron explained the whole thing came about through her keeping fit on her bike and that a few years ago cycled through the Black Isle cycle for Highland Hospice.
It was when she was looking for a new challenge that Mrs Bremner came along suggesting that they do the Women V Cancer Ride the Night cycle.
Mrs Cameron said: "We have all had friends and family who have been affected by cancer and it was a good cause. Ride the Night is for breast cancer, ovarian cancer and cervical cancer.
Despite the first rest stop coming just after 13 miles with offerings of much needed coffee, cake and liquids Legs Miserables enjoyed their ride.
Mrs Cameron said: "It was amazing but hard going, everyone was really friendly and there were people on bikes to help riders with technical problems.
"It was really well organised – there was an amazing volunteer support systems throughout the course."
They managed to finish the race by the time the sun was up and raised more than £2,500 for Breast Cancer Care, Ovarian Cancer Action and Jo's Cervical Cancer Trust.
According to the official social media page of Women V. Cancer Ride the Night those who took part managed to raise £1.32 million.