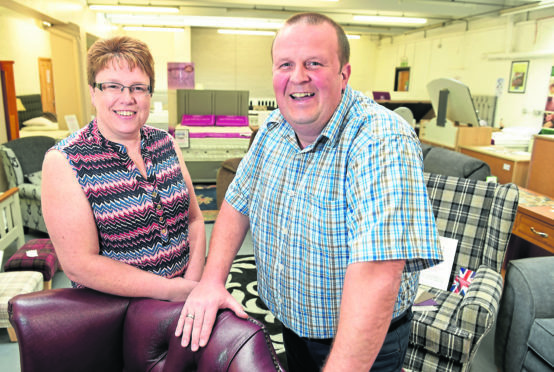 Plans have been submitted for a new auction house at an industrial unit at Inverness Airport.
Nichola Bryson, who already runs a furniture business in Inverness with her husband, Ken, wants to tap into a market gap by auctioning second hand household items like sofas, tables, beds and kitchen ware.
She says other local auctions in Dingwall and Elgin are becoming more specialised on higher priced, antique goods.
The last auction house in Inverness closed about nine years ago.
The 43-year-old said the hope is to open the family run auction house in a ground floor unit at Dalcross Industrial Estate by the autumn, with the aim of employing more staff in the future.
She believes the new auction will attract people from as far afield as Skye, and will benefit those in desperate need of items for their homes in a financial climate which limits the funds to buy new.
And Mrs Bryson highlighted that the auction will allow people to buy goods which can they can spruce up and sell on – something which she and her husband used to do.
She said: "This is an absolute dream to be able to do this. It's been a dream for a few years and we can see this as a really good thing for Inverness that you have a genuine couple, known for selling new furniture and for second hand furniture, offering this."
The auction itself would take place on Thursday evenings, with doors open for viewing from 6pm and auction commencing at 7pm until about 9pm.
Staff members will also be on site during the week for people to take in their goods, with designated hours for the public to view the items coming up for auction.
The building has been unoccupied for about two years, with exception to first floor offices which have been leased to an architect company for more than three years.
The couple, who live in the Dalcross area, currently run Bryson Furnishings in the city's Harbour Road.
A supporting statement, submitted with the plans, estimates that about 30 vehicles will attend the auction on Thursday evenings while the sale is ongoing.
The application says that, as the auction will take place in the evening after working hours, the industrial estate will be quiet and parking should not be a problem.
Light refreshments – including tea and coffee, crisps, biscuits and sausage rolls – will also be served to those who attend the auctions.
The plans were validated by Highland Council planners on June 7.