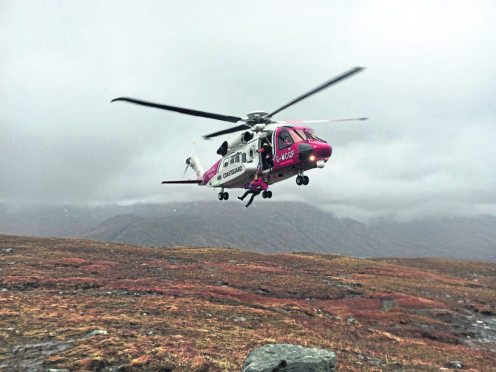 The Inverness Coastguard base was the busiest in the UK in the first three months of 2018.
Rescue 951, based at Inverness Airport, was sent out on 90 "taskings" up to the end of March – which equates to one call-out a day.
Crews were regularly called into action over the mountainous areas of Lochaber and the Cairngorms.
Recovery and rescue operations accounted for 50 of those missions, while the Coastguard also performed a supporting role in 21 further operations and took part in 17 search missions.
Many of the missions saw the Coastguard working hand-in-hand with local mountain rescue teams, given the rugged and often difficult landscape the rescues take place.
Team Leader of the Lochaber Mountain Rescue John Stephenson is clear about the importance of their role saying "without a doubt it is life-saving work."
He said: "The golden hour that everyone talks about of getting casualties off and to hospital in time, if that is what is needed, without a doubt it saves lives. We have a very good working relationship with them.
"What they do saves us so much time and work particularly when the weather is good and they can just come in and get a casualty and get out. For us it would take hours getting a casualty out."
Cairngorm Mountain Rescue Team Leader Willie Anderson agreed, saying: "Through the years they have provided a really good service. They are a busy crew and they help us out all the time."
Overall, the Highlands and Islands has been the busiest region in the UK so far this year, with 623 taskings. The south west was the second busiest, with crews undertaking 567 missions.
The Highlands are covered by Coastguard bases in Inverness, Sumburgh, Stornoway and Prestwick, which has been the busiest base in Scotland over the last 12 months.
The calls outs experienced by each of the bases all showed a rise over the last 12 months with Stornoway at the top with 12%, followed by Prestwick and Stornoway at 6% and Inverness up just 1%.