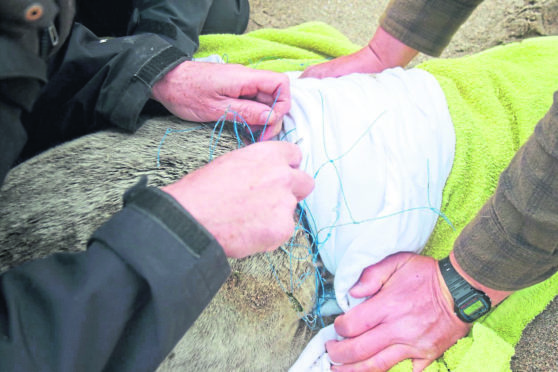 A young grey seal found entangled in monofilament net has suffered an agonising death in Shetland despite efforts to save it.
Volunteers from Hillswick Wildlife Sanctuary were called to Britain's most northerly beach at Skaw, on the island of Unst, where the tragic seal was found by a Shetland Wildlife tour group with netting deeply embedded in its neck.
They successfully caught the seal and cut it free, but it sadly died.
The volunteers were then immediately called out to deal with a second seal tangled up in netting on a beach at the other end of the islands.
The sanctuary owners are now calling on the global fishing industry to take more care about abandoning even small pieces of fishing net in the sea
Jan Bevington said: "In the past week alone we have received reports of four separate seals caught in abandoned fishing nets.
"We only managed to catch and free the seal on Skaw beach in Unst because her wounds were so dreadful that she was too weak to go back into the sea."
Her husband Pete added: "It was one of last year's grey seal pups, probably eight or nine months old who must have swum into the deadly net when it was very young and grown into it, leaving a three inch deep wound."
On their way back to mainland Shetland, the team heard of a second grey seal described as "completely wrapped up in green netting" on a beach near Bridge End, in Burra.
Sadly, the seal from Skaw died while they were on their way to Shetland Vets to collect medication.
Meanwhile, the Burra seal had gone back into the sea and there was little the volunteers could do to help, though the seal with green netting around its neck could be seen from the shore.
Pete said: "It has been a roller coaster ride after the race to reach Unst, the elation of freeing the seal from the netting, the heartbreak of it dying and the sheer frustration of not being able to help the one still in the sea, which could also face an agonising death thanks to a small piece of discarded fishing net."
Jan added: "We know our local Shetland fishing fleet takes this issue very seriously and many local boats take part in the Fishing 4 Litter scheme which originated in these islands.
"All we can do is plead with the fishing industry to send a clear message to fishermen right across the globe to make sure that no netting of any kind ends up in the sea where it can cause such devastation."
Warning of distressing image