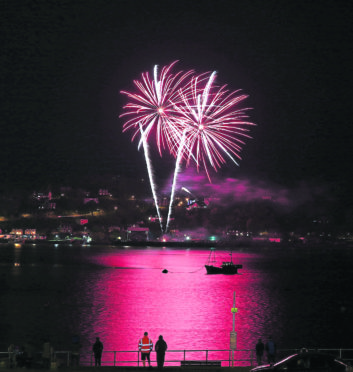 A 20,000 strong crowd lined the banks of the River Ness last night to watch the city's fireworks display go with a bang.
Spectacular entertainment and a roaring bonfire were the order of the day for the huge number of spectators who braved the evening chill.
For a while it appeared the display was to be blessed with fine weather, only for fog to roll in what seemed like seconds after the event began.
That reduced the viewing opportunities for some who might otherwise have viewed the pyrotechnics from vantage points around the city centre.
Nonetheless, there was plenty to enjoy, with a variety of entertainment on offer at the Bught Park throughout the evening.
Gates opened at 5.30pm, with crowds packing into the park to enjoy performances by the Fly Agaric Fire Display Team and the City of Inverness Youth Pipe Band.
Provost Helen Carmichael then stepped forward at 7.30pm to spark the city's giant bonfire into life.
As temperatures plummeted, the crowd were finally able to begin the countdown to the evening's main attraction.
This year's display was set to a movie-themed soundtrack with, instantly recognisable tunes from The Greatest Showman, Stars Wars and Pirates of the Caribbean being used to enhance the audience's experience.
Councillor Trish Roberston is part of the Inverness Events and Festivals Working Group, which helped to organise the event.
She said: "There was a great crowd here and the rain stayed off, which was wonderful. It's so much nicer when the weather is good."
Highland Council's city area manager, David Hass, added: "Its great for the city that it has this ability to put on a show like this.
"It was wonderful to see the faces of the young people amongst the crowd – especially the ones that were seeing such a display for the first time – and to know that everyone was enjoying the display in an enjoyable and safe environment.
"We are grateful to everyone that has supported this event.
"That's the benefit of having a Common Good Fund and of having a city like this that believes in community and community spirit and having lots of happy people."