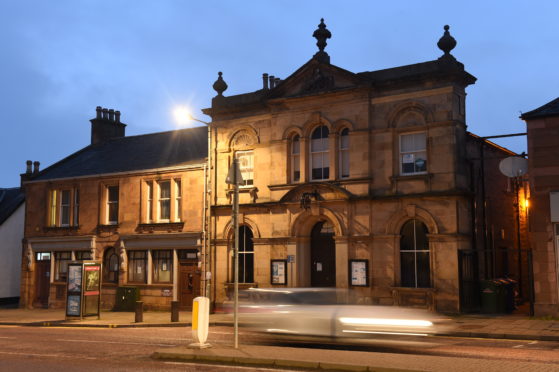 A public consultation has launched on what to do with a historic Invergordon High Street landmark.
Invergordon Town Hall forms part of the the town's Common Good fund, and has become increasingly expensive to maintain and run.
Efforts have been made in vain to increase its usage and find funding for improvements, but there is not enough capital funding available to upgrade and improve the building.
Highland Council has launched an eight-week consultation inviting the community's views on proposals to consider its disposal.
Any funds from its sale would be returned to the Common Good Fun.
The hall was built in 1871 by William Cumming Joass of Inverness, turned into a 500-seat cinema in 1934 and after showing its last film in 1984, converted for use as an arts centre.
Historic Scotland describes the B-listed building as of 'special interest' for its well-proportioned frontage, Italianate detailing and relief carving of Neptune with cornucopia, sculpted in 1871 by Davidson of Inverness.
Local councillor Maxine Smith said it was important to protect the building's façade and identity.
She said: "The roof needs attention and the sandstone is falling off in chunks.
"The rental the council receives as its caretaker is a pittance and barely covers the running of it.
"The council has been looking for funders for years to do it up, but it would need a charitable group to take the project forward."
Ms Smith said different attempts had been made to bring back the town's cinema, but it never proved viable.
She went on: "The Town House is the last remaining Common Good Fund asset of any worth in Invergordon so if and when it is sold, there would have to be a further discussion on the use of any monies raised, although at this stage we do not know the actual value, as its state of repair may reduce any value considerably.
"If someone bought it privately they could change the inside with a building warrant, but would have to protect the integrity of the outside.
"At least then we can view it as it once used to look with the amazing Neptune sculpture near the roof above the entrance."
The consultation is online at the council's website. Responses can be sent to commongood@highland.gov.uk