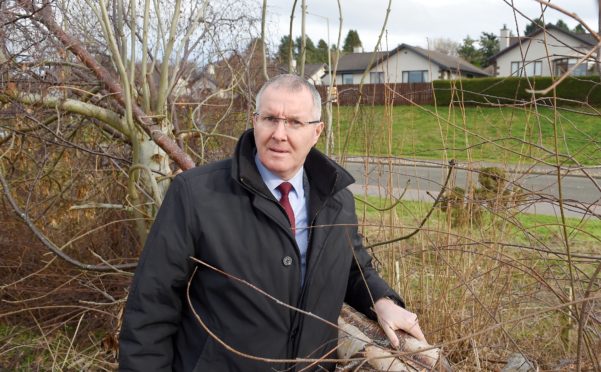 Police in Inverness are investigating complaints of dozens of trees in the city's Cradlehall area being deliberately poisoned.
Cherry blossom trees in the Castlehill community woodlands and park have been targeted with gritting salt being dumped at the base of their trunks – which could ultimately kill them.
Police officers were yesterday conducting enquiries in the area.
A police spokesman said: "We can confirm that this has been reported and inquiries are ongoing."
Angry councillor Duncan Macpherson was left shocked at the "vandalism".
---
>> Keep up to date with the latest news with The P&J newsletter
---
He said: "I've received complaints from residents in Inshes Brae, and nearby homes, as have the community council, regarding two individuals carrying salt sand from the council's yellow grit bins, across the road and deliberately placing it at the base of healthy tree trunks.
"It is apparent that the culprits of this act of environmental vandalism to the trees are adults and not youngsters.
"If this behaviour with salt deposits at the base of healthy trees is not stopped then it will discourage natural Scottish wildlife from Cradlehall and Westhill, one of the delightful residential areas on the suburbs of the city of Inverness."
Kath Fraser, chairwoman of Cradlehall and Westhill Community Council, will be raising the tree poisoning issue up at their next meeting.
She said: "My husband and I went out with the dog on Tuesday morning, we noticed it then and I took some photographs. I think it's absolutely wrong, they shouldn't be doing that. They are trying to kill trees, it's not fair. I'm not happy with it at all.
"I think that we have to find out who the people are that are doing it and we have to speak to them.
"I don't think it's very fair because it's just so they can have a view and not everyone can have a view from their house. There nice trees and they shouldn't just cut them down so that they can have a view.
"We will be bringing it up at our community council meeting next Wednesday."