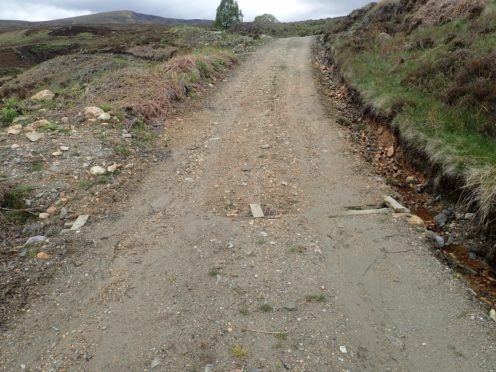 A Newtonmore estate has been granted retrospective permission by Cairngorm National Park Authority (CNPA) to resurface its hill track at Carn Sgulain, provided it doesn't use plastic matting.
Glenbanchor estate applied to repair the track using local materials, and also to create a turning circle using plastic matting.
The estate said the tracks are currently established routes creating a cohesive network for agricultural use, deer management and sport, and the matting would allow grass to grow through it and protect fragile surfaces.
The application faced objections from parties such as Scottish Wildland Group, Mountaineering Scotland, North East Mountain Trust and Badenoch & Strathspey Conservation Group (BSGC) on grounds of the poor construction quality of the existing track, and insufficient information about the repair project.
CNPA granted the overall application to repair the track, but banned the use of plastic matting on environmental grounds.
BSGC welcomed the decision to prohibit the matting.
A BSCG spokesman said: "We are opposed to the use of plastic matting in our uplands. It will age, degrade and break down leaving a long-lived legacy of pollution including microplastics. We therefore welcome the unanimous decision by Board members to reject the planners' advice and require that the use of plastic is prohibited."