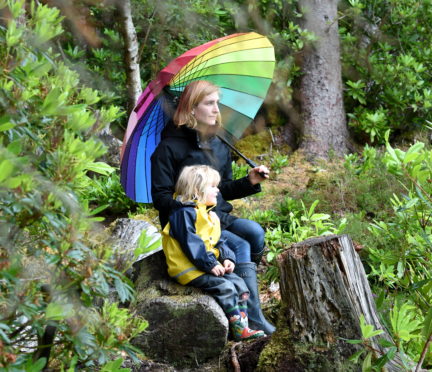 An outdoor nursery for 3-5-year-olds will open at the end of August in Wester Ross.
Kinder Croft will be set in a mature, sheltered conifer plantation in Leckmelm Wood near Ullapool and will accommodate up to 16 children.
A timber shelter and toilet block will be provided.
The site is next door to where its founding director, jeweller and silversmith Merlin Planterose has a newly created croft.
She has a flock of hens there and is planning polytunnels and an orchard.
She says the nursery children will have access to the croft to learn about where food comes from.
She said: "We aim to provide an environment for the children with an ethos where they are valued, trusted and supported to lead their own nature-based learning journeys."
Kinder Croft is a social enterprise and has been awarded £5,000 by Firstport to help the business open.
Ms Planterose, who is from Scourie in Sutherland originally, said: "It is fantastic to be given this funding at such a crucial stage in Kinder Croft's own journey from idea to practical, daily reality."
Local parent Kirsten MacLennan said the forest nursery will complement how she wants to raise her son.
She said: "It will suit Quinn's nature well.
"His diet and sleep are always better, his play far more interactive and engaged when he's outside.
"Living up here our children need to learn quickly how to adapt to changing weather to take full advantage of the play opportunities that surround them. There's so much for them to see and do."
Ms Planterose said the nursery is determined to be responsive to the needs of local communities.
She said: "Sustainability and transparency in everything it does are among its core values.
"We are in discussions with Highland Council about forming a partnership to provide commissioned places for early learning and childcare."
Heather Keyes: No child's play – ending the stigma of male nursery workers is hard work, but worth it
Kinder Croft's other directors include Ms Planterose's siblings Sam and Tiril, Andy and Rachel Grant, Dorian Braun, Rhiannon van Muysen, Evie Strange and Martine Noble.
They are hard at work on the site, getting it ready for opening in August.
Ms Planterose said: "Many studies show that being outside as much as possible is good for us, and this is especially true for young children as they begin to learn about and engage with the world around them.
"We will offer a safe and dynamic outdoor setting where children will learn to place themselves in nature, as a connected part of it rather than as visitors passing through.
"Children will be allowed to explore boundaries and reach their potential through a positive approach to risk, by trained staff, in a nurturing natural learning environment."
The nursery is currently recruiting a manager and practitioner.