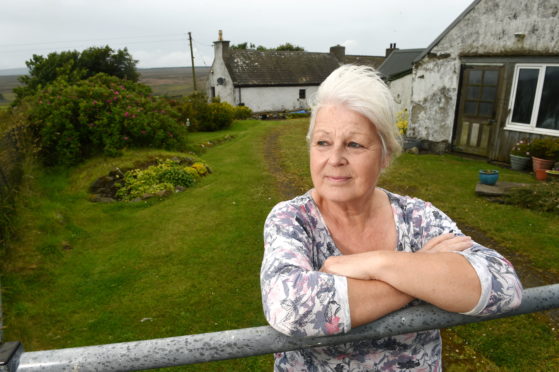 A Caithness community is to consult locals on how best to use the money brought in by wind farms.
On land three miles north of Lybster, German energy giant E.On Climate and Renewables will soon learn if Scottish ministers will give the go ahead for its Golticlay wind farm, comprising 19 430ft turbines.
It's near the operational Camster wind farm (25  400ft turbines) and the proposed Camster 2 (a further 14 400ft turbines).
While some in the community are dreading the prospect of more turbines, others have taken a more pragmatic approach.
Lyth and Lybster Community Development Company (LLCDC) bought 40ha of land to develop two small turbines for community income, and then E.On approached them.
LLCDC manager Tom Briscoe said: "They said they were looking at a much bigger windfarm at Golticlay so we partnered up.
"The arrangement is that they would finance it all and we would get the community benefit, a percentage of the profits that would come into the village that we would then use for community activities."
Mr Briscoe said the community benefit could be up to £200,000 annually for the next 25 years.
He said: "People come to us saying there are too many windfarms and the landscape of Caithness has certainly been challenged as a result of having too many, we totally understand that, we get it every week from people.
"But we also get people who are pretty anti-windfarm but also very pro-community. They object in principle, aesthetically to these turbines, but they also appreciate the community benefit from them is important as well."
---
Local and Proud: Follow our new Facebook page dedicated to the Highlands and Islands
---
Using money from Camster, LLCDC is about to embark on a detailed consultation on how to develop a co-ordinated approach to all the money coming in from the wind farms.
Mr Briscoe said: "When these windfarms come and go, what we're looking at with the community council is the legacy that they leave, and co-ordinating all the money that comes in from all the windfarms, from Camster, Burn of Whilk, Beatrice offshore and potentially Golticlay and Camster 2.
"Potentially over the next twenty years we're talking millions, and we need to co-ordinate that to work for the benefit of people in Lybster.
"A lot of people feel that if we have to have them we might as well get something out of it."
Trudy Morris, Caithness Chamber of Commerce chief executive said: "We understand that the subject of onshore wind is an emotive one, and one where many people on both sides have strong opinions.
"We believe that Scotland needs a mixed energy policy to ensure sustainable future development, and that onshore wind has a part to play in that, particularly if the Scottish Government's ambitious carbon reduction targets are to be met.
"It is extremely important that onshore wind developments are planned and developed in a sensitive and responsible way, taking into account the views of the communities affected, and that each development should be assessed carefully on its own merits.
"Community benefit from windfarms can give a real boost to remote and rural communities in Scotland, and it is important that these funds are set up and managed in a way which maximises the benefit available.
"The Chamber administers the Baillie Wind Farm Community Benefit Fund and manages the Caithness Business Fund, both of which receive annual contributions from the Baillie Wind Farm (Stakraft). In both cases, the developer wanted to bring additional benefits over and above the statutory minimum.
"The Caithness Business Fund supports business startups, growth businesses, and apprenticeships across the North Highlands. In addition to directly supporting projects in its immediate area, the Baillie Wind Farm Community Benefit Fund also provides monies to educational and sporting groups across the entire region. Both of these funds provide a good example of how innovative thinking can really maximise the benefits seen by the wider community."
Family ready to walk away if development approved
Community benefit won't sweeten the pill for some residents directly affected by Golticlay.
One family says they will walk away from everything they love if it is approved. Janet and Peter Cowin, and Janet's sister Joanne Bowd moved to Caithness eight years ago from the Peak District.
The family, now in their sixties, had been dreaming of a new life under the huge skies and open landscapes of Caithness for years. They established their home in Roster, investing in the house and garden, with all three working as crafters to sustain their dream.
Mrs Cowin said: "In the Peak district we lived in a valley where you didn't see daylight because of the high peaks all the way round. We always intended to come somewhere with expansive view and big skies and just lots of emptiness.
"Golticlay will be on the ridge right opposite our house, it will be overbearing and overpowering and we'll see it from every room in the house. We are part of an action group that has objected, and we're hoping it will be turned down, but I can't say we're confident.
"We feel under threat by it all, and yes , I would leave. "We came here with the intention of never moving, we're going to die here basically, but with the upset this has caused, if we could afford to move, I'm sorry to say we would actually leave, and we don't want to leave Caithness, it took us 30 years to get here."
'Over-development risks reputation for beautiful landscape'
There are currently 227 operational wind turbines in Caithness, and if all the proposals that are currently in the pipeline are approved, there will be close to 500, not mention applications still to come.
Now it's emerging that developers are applying to extend their 25 year contracts to 40 years, and to 're-power' them to make them much bigger, up to 650ft.
Independent councillor for Thurso and north-west Caithness Matthew Reiss says he is depressed and increasingly angry about the situation. He said: "At the moment there's a buffer zone for turbines of just over a mile from residential areas. Now we're starting to see applications for them to be renewed and re-powered with much bigger turbines, but there's no suggestion of the buffer zone being increased to give people more protection.
"The First Minister has quite clearly said there's to be no veto for the public on renewable energy projects but I find this profoundly undemocratic. I'm not a political councillor but I've come to the conclusion recently as the decisions have become more and more unfair, it's my responsibility to speak out."
Regarding Golticlay, Mr Reiss said wildcats had been spotted in the area, but even that seemed to count for nothing.
He said: "They are arguably the most iconic species in Scotland, on the brink of extinction. I personally went to SNH HQ in Inverness and pleaded for some money to be given to do a survey of Golticlay site, but the exact phrase I got back was that Caithness was not a priority area for wildcats and therefore nothing going to be done."
Mr Reiss is also concerned about the negative impact on tourism from wind farm over-development.
He said: "There is a genuine risk that Caithness will get a reputation for being an area that, yes, it did once have a reputation for being intrinsically beautiful and different from anywhere else in the Highlands, but it's been lost. Caithness people very reserved and reluctant to speak out, but one very elderly gentleman said to me, please Mr Reiss, can you do anything you can to stop that windfarm, it's my village and its beautiful and I don't want it spoiled."
More applications in the pipeline
Applications for more wind farms in Caithness keep on coming.
Swedish firm Arise wants to develop a 67 megawatt venture near the established Causewaymire wind farm, just off the northernmost stretch of the A9.
Its plans involve 16 500ft turbines on ground at Tormsdale, 15 miles south of Thurso. Innogy Renewables UK Ltd has meanwhile updated its plans for a 11 turbine scheme at Achavanich, near Latheron.
At 650ft high, they would be among the tallest in the Highlands if granted planning consent. Slickly Wind Farm Ltd also want to increase the height of its structures from 440ft to 500ft.
The 50 megawatt scheme is earmarked for 815 acres of forest near Slickly Croft. Abbey Ecosse wants to extend its Forss windfarm near Reay by five turbines, bringing the total to 11. E.on wants to put up 11 turbines at Camster 2.