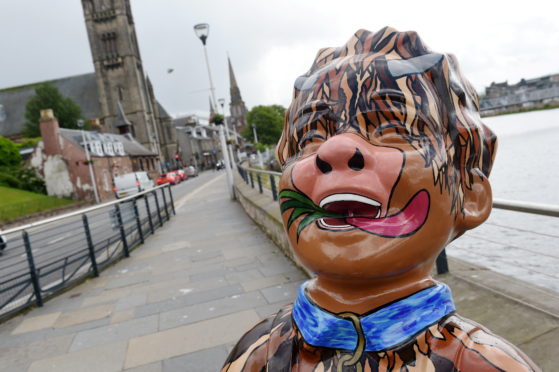 Oor Wullie fans in the Highlands are being given one last opportunity to see the region's sculptures before they go up for auction.
All 10 of the uniquely designed Inverness statues as part of Oor Wuliie's BIG Bucket Trail will be together for a final glimpse at the Eastgate Shopping Centre from Friday September 13 to Sunday September 15.
Oor Wullie spotters will be able to come along from 11am to 4pm on the Friday and Saturday or from 12pm to 4pm on Sunday.
The following week they will go under the hammer at Thainstone Specialist Auctions raising vital funds for The ARCHIE Foundation, the official charity of the Highland Children's Unit.
Sponsored by Zero Waste Scotland, the Inverness Farewell Weekend is free and gives the public one last selfie opportunity or a final chance to collect sculptures that they may not have had a chance to see on the trail.
As well as the large sculptures, all 12 of the Wee Oor Wullies created by local schools will be on show alongside the newly created Wandering Wullie by artist Clare Mackie.
Dawn Cowie, ARCHIE Highland fundraiser, said: "We've had so much fun this summer and it has been fantastic to interact with the public who have really embraced the trail.
"We have loved chatting to people from across the country and further afield who have heard all about Oor Wullie's BIG Bucket Trail.
"The Farewell Weekend will be one big celebration of the trail and a final chance to see the unique sculptures before they are auctioned raising vital funds for The ARCHIE Foundation.
"We are expecting a packed weekend of visitors so don't miss the chance to see the sculptures one last time or pick up trail mementos."
Oor Wullie's BIG Bucket Trail is a public art trail with specially-designed sculptures appearing on the streets of Aberdeen, Dundee, Inverness, Glasgow and Edinburgh from June 17 to August 30, followed by auctions to raise money for The ARCHIE Foundation, Edinburgh Children's Hospital Charity and Glasgow Children's Hospital Charity.