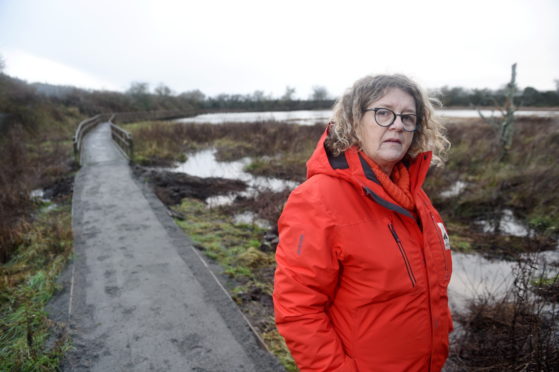 An Inverness beauty spot was left submerged as Storm Brendan left a trail of destruction in its wake.
Gale force winds and wintry showers have been wreaking havoc across the north this week, resulting in a series of road closures, power cuts and localised flooding.
As Highland communities begin to repair the damage, a section of Merkinch Local Nature Reserve was closed to the public following severe flooding.
High winds and high tides swamped the areas's pond, which burst its banks and flooded paths.
The flooding is a blow to the reserve as contractors were forced to halt works to repair the woodland walks.
Project manager Caroline Snow said it is the worst flooding they have experienced in 20 years, but fears it may be a sign of things to come.
She said: "We had very high tide yesterday and we have had lots of water pouring in.
"This winter the water table in the reserve is much higher. We have contractors in fixing the path and now they are trying to do it under water.
"Lots of people use the reserve for exercising dogs and going for walks, while may others use it as a shortcut on their way to work, to school or to go shopping.
She said of climate change: "You do notice the effects of it creeping in, but when the evidence is right there in front of you it is pretty shocking.
"I think it is a sign of what is likely to start happening more regularly."
Regular users of the woodland track have been asked to seek an alternate route as officials continue to monitor conditions.
Mrs Snow said plans were being progressed for a full overhaul of paths on the reserve.
With parts of the boardwalk "crumbling" she wants to see changes made to the design and length of the structures.
She said: "We are going to need a longer boardwalk and at the moment we are looking at securing funding.
"The existing boardwalk needs to be replaced as it doesn't have a lot of years left in it.
"It is going to need fixing-up soon and so if work goes ahead to replace it, then it might be useful to extend it at the same time."
The value local residents place on the reserve was made abundantly clear last year as Highland Council officials were forced to scrap plans for 35 homes in the field behind Carnarc Crescent and the local reserve.
Campaigners fighting to preserve the beauty spot launched a public petition which gained more than 900 signatures.