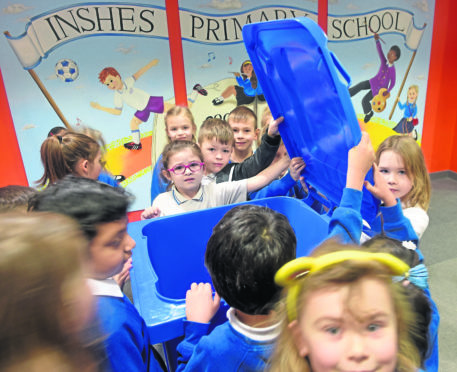 Children in an Inverness primary school are tackling the scourge of plastic on their own terms.
P2a pupils at Inshes primary school put in a special request to their local councillor for their own blue bin, and have now been granted their wish.
The children are part of the Unicef Rights Respecting Schools Award, a programme for the development of the global, social and emotional aspects of learning, community cohesion and sustainable development.
In their letters, they told Inverness South councillor Ken Gowans they were sad and wanted the planet to be free from plastic because 'animals die from it'.
Six year old Phoebe wrote "When it goes to landfill, it sometimes blows away and animals eat it and die. So that's why we need another bin for plastic."
Mr Gowans told the children he was pleased they took the trouble to write to him and he was delighted to help them.
He said: "I am very impressed that you all know that plastic can be very bad for our planet.
"We all need to look after our planet because the planet looks after all of us."
Mr Gowans also paid tribute to the children's teacher, Kelly MacIsaac, for teaching children about their rights, adding: "Getting the blue bin demonstrates that children do indeed have a voice."