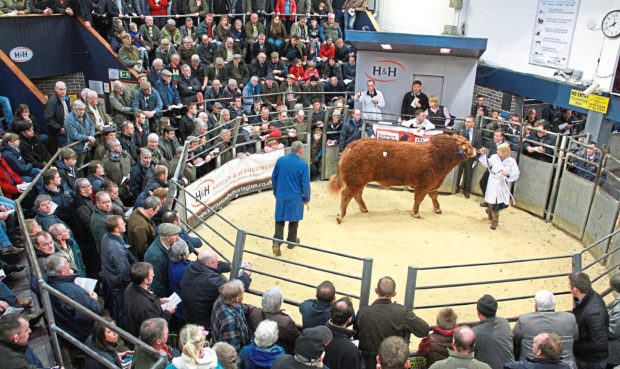 The Lancashire Limousin breeders who bought a bull at the centre of a high-profile breed registration crisis are to disperse their herd.
The Handley family, which runs the Gunnerfleet herd, will put the entire herd under the hammer at Harrison and Hetherington's Borderway Mart in Carlisle on May 16.
The family bought a bull from Dunkeld breeder Stuart Fotheringham's Ballinloan herd for 24,000gn in October 2015.
The parentage of the bull, Ballinloan Jaegerbomb, was later brought into doubt when it was discovered his dam had been mistakenly recorded. DNA testing later confirmed the correct dam.
After initially being suspended by the British Limousin Cattle Society (BLCS), Jaegerbomb was entered back into the herd book and sales of his progeny and semen resumed.
The crisis deepened in May last year when the British Cattle Movement Service (BCMS) withdrew 62 passports from cattle from the Ballinloan herd or their offspring, including Jaegerbomb sons from the Gunnerfleet herd.
This led to many of these animals having to be sold as unregistered stock.
In a statement on their Facebook page, the Handley family said they felt let down by the Jaegerbomb saga and would be seeking legal action.
The statement said: "We are an honest, quiet family that want to breed quality pedigree Limousin cattle.
"And all we are doing is entering into a potential legal saga."
The family said it was still a firm believer in the Limousin breed.
They added: "The breed will get through this dark time as quality always pays."