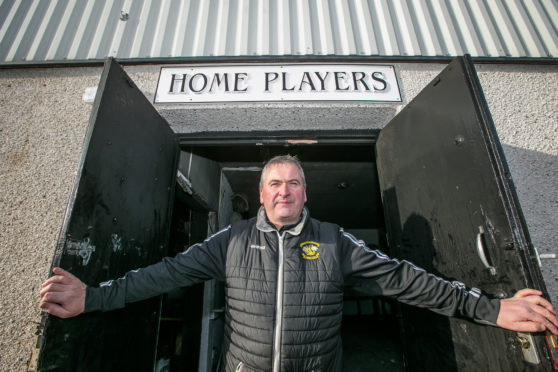 Supporters of Inverness Clachnacuddin FC have launched a fundraising campaign for temporary accommodation to allow the club to return home following a devastating Christmas Eve fire.
The Grant Street club felt the full force of the blaze as extensive damage was done to the club's home changing rooms and boardroom.
The fire, which started in the laundry area of the Mercury House building, forced the relocation of home matches to Canal Park, the home of Highland Rugby Club.
But now, the Clachnacuddin Supporters Trust has launched an online fundraising campaign to generate £5,000 to create temporary changing rooms, as well as funding improvements when renovation works get under way.
Yesterday, the total stood at more than 35% of their desired total as fans and people with connections to the club dug deep.
Club chairman Alex Chisholm hailed the efforts of the Inverness community to ensure the club could continue to host fixtures in the city, as well as aiding in efforts to get their Grant Street facility back up and running.
North sports clubs pull together as Clach to play first ever Highland League fixture at home of Highland Rugby Club
Mr Chisholm said: "We have now played a couple of games at Canal Park and it has been a good attraction. It is a fantastic facility and has worked really well.
"Different rules between the sports have led to setting up slightly differently and curbing the sale of alcohol at set times, but it has been very good and it has strengthened relationships.
"But we do want to get home and back to Grant Street."
Mr Chisholm said plans are progressing to renovate the fire-stricken stadium with meetings taking place this week with insurers.
He added: "It has taken a bit of time to get to this stage but things aren't going to come together overnight and it just shows the extent of the damage, but the support we have been shown has been tremendous.
"The trust coming forward like this with their ideas is what Clach is all about.
"This will firstly get us back there and secondly will allow us to carry out some improvements when we do get there."
Clach hope to return to Grant Street for their fixture with Nairn County on Saturday February 15, however, Mr Chisholm said this was not fixed in stone.
Donations towards the fundraising efforts can be granted through a dedicated GoFundMe page.