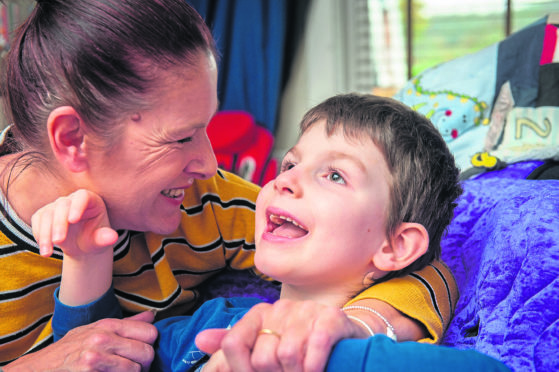 A north family's dream to build a £60k care pod in their garden for their terminally-ill six year old has come true.
The structure will enable Reece Mitchell, who has CLN2 Batten disease, a rare neuro-degenerative condition, to be cared for at home in the equivalent of a mini-intensive care unit.
The tens of thousands needed for the specialist building and equpment has been raised through an online appeal started last October by Reece's mum, Donna Brown.
She said: "We cannot thank everyone enough for all the support and help.
"Connecting Carers, Batten Disease Family Association, and Kate Forbes MSP's office worked tirelessly behind the scenes to help make this happen.
"Reaching our target is just incredible and testament to people's kindness and willingness to help.
"Not only have we had massive support from the people of the Highlands but from all over the country which is just astounding."
Reece's condition has a life expectancy of up to 12 years, and causes blindness, extensive short-term memory loss, early dementia, loss of physical movements, speech, and distressing seizures.
There is no cure or treatment.
The family home does not have a large enough downstairs room for a hospital bed and all of the equipment Reece will need in the near future, and the local council ruled out an extension to the property.
Once Reece no longer requires the pod it will be passed on to another family who may find themselves in a similar situation.
Ms Brown said the pod will be life-changing for the family, allowing Reece to have the space to be cared for with dignity and respect.
She said: "Now we can concentrate on giving Reece the quality of life he deserves, no more carrying him up and down the stairs and in and out the bath as I always feel that I'm man-handling him.
"We can now enjoy and try and make the best of the time we have. As Reece's disease progresses we don't have the worry as to what's going to happen as I will be able to care for Reece at home where he belongs."
MSP Kate Forbes said: "This is incredibly good news for a well-deserving little boy. People have been tremendously generous, and been moved by Reece's story.
"His mum Donna is an amazing force of kindness and energy. She has mobilised hundreds of people to hold coffee mornings, do a sponsored swim and donate generously.
"This result is testament to her care for her son and the public's generosity of spirit."
The pod will be installed and in use by the end of the month.