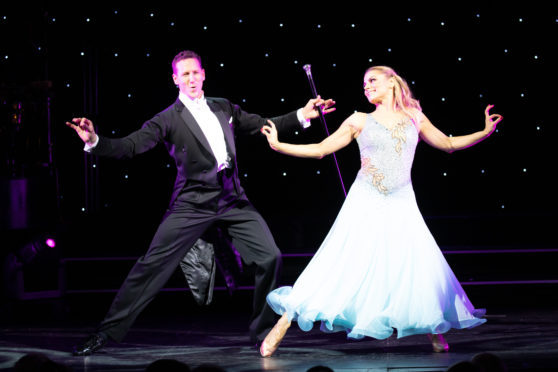 I've drifted away from Strictly over the years. Too much hysteria, hype, heaving emotion. I was struggling to care about any of the participants. Sorry, Strictly fans.
But the one thing I hadn't drifted away from was the dancing, the gorgeous costumes and the spectacle, so when Brendan Cole Show Man was announced at Eden Court in Inverness, I jumped at the chance.
Brendan is a veteran of 15 Strictly series, memorably winning  in the first one with Natasha Kaplinsky.
Show Man is Brendan's fifth theatrical production, and will see him tour the UK for the twelfth time, very much doing things his own way.
His own way includes inviting in local children where possible, and last night Inverness's own Stagecoach choir made very sweet appearances during the show.
The touring show only landed in Inverness for one night, so the theatre was mobbed, mostly with adoring lady fans with a few brave men sprinkled through the rows.
Brendan knows his demographic, as he told us at the start, so has thoughtfully provided four 'Italian stallions' in his troupe.
They sprang about like mythological fauns, light, bendy and some quite hirsute.
Last night two exquisite female dancers (but why the tattoos on the lower legs of one of them?)  brought beauty, grace and sassiness to the show, and it was only at the end that Brendan revealed they were one female dancer down due to injury.
The whole troupe had covered for her seamlessly.
Brendan promised a show of infinite variety, and he certainly delivered with massive show stoppers and  more poignant, thoughtful dances, like Send in the Clowns- oh the impossible romance of it- and Cinderella, the sadness of a father as he watches his daughter fast growing up and away from him.
Before the show I hadn't given much of a thought to the band. They were mind-blowingly good, all eight of them and singers Iain Mackenzie (I'd travel a long way to hear him sing jazz and big band) and Jenny Jones were in spectacular voice to complete the 360 degree experience.
Roxanne was delivered as an Argentinian Tango, Despacito, which means 'slowly' was delightfully quick, and Paolo Nutini's Pencil Full of Lead was exceedingly sexy.
My personal show-stopper was Bricusse and Newley's I'm Feeling Good, danced only by the boys but with punch-packing sexiness and passion.
There was Bond, Nat King Cole and country- during which number, Tennessee Whisky, Brendan revealed he also has a decent singing voice in addition to his many talents.
How lucky we are that New Zealand exported him to us all those years ago.
For more information and tour dates visit http://www.brendancolelive.com or http://www.pmbpresentations.com