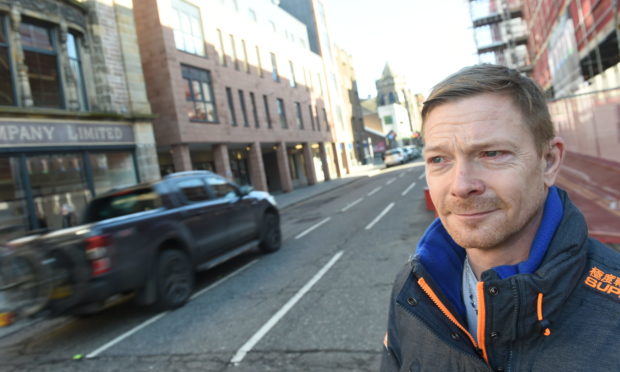 Residents of an Inverness city centre street have been told to park elsewhere and get a bus back after they complained about the lack of parking spaces to serve their homes.
The council tenants say they're being discriminated against by Highland Council when it comes to parking.
The residents, who live at no 92 Academy Street, have no provision for car parking around them, but the council has refused to let them buy annual residents' permits for streets a little further away.
They say it is just part of a bigger problem as new hotels are planned for the area – one of them causing a car park to be demolished to make way for it.
Resident Christopher Mullet said: "If they let us buy spaces in a car park yards away, it would cost £55 a year which we'd be happy to pay.
"They want us to use the Rose Street multi-storey car park at £69 a month which none of us can afford.
"We were amazed to receive a letter from our local councillor telling us to consider parking somewhere else and take a bus back."
Mr Mullet, 49, said residents are having to park as far away as Merkinch, adding that his car insurance could be void if anything were to happen there.
On Academy street itself there currently a limited number of loading bays, with 36 council flats nearby and more affordable housing also due to come on stream.
The nearby two-storey car park in Rose Street is being demolished to make way for a hotel, restricting parking opportunities further.
In December, Highland councillors granted planning permission for a 175-bed four-star hotel on the derelict site of the former swimming pool in Glebe Street.
And plans are afoot for a hotel in place of the Ironworks music venue.
Meanwhile, residents have unsuccessfully asked the council to consider renting them unused overnight spaces in the Rose Street multi-storey.
Mr Mullet said: "It would be a piggy bank for the council. There are 150 unused spaces there overnight, and the place is fully lit and manned from 7am to 10pm.
"We would be prepared to pay a reasonable annual rent to park in there at night.
"Other councils issue permits which cover all their car parks."
A council spokesman said such a scheme would be difficult to deliver for technical reasons.
He said: "If we created an overnight permit for Rose Street multi-storey, it would be available to anyone within the city centre, we would not be able to allocate a particular location just because they are council tenants.
"There is no permit parking scheme in the city centre for any users, however most city centre loading bays are available to users free of charge between 6pm and 8am.
"The residents' problem is shared by all city centre residents and all individuals should consider these issues around their circumstances when living in a city centre as there is no obligation on the roads authority to provide residential parking."
Mr Mullet said:  "The council simply wants everyone to use the Rose Street multi-storey for their own benefit, including all the visitors. None of the hotels, including the new ones to come, have enough parking."