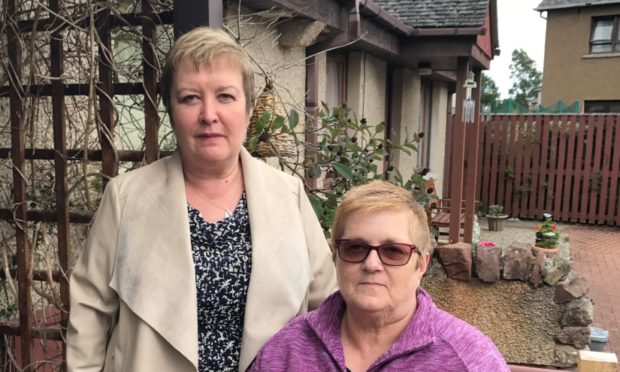 An Inverness woman hopes MSPs will this week help advance her campaign for a specialist scanner to treat people with a neurological disorder.
Mary Ramsay is asking the Scottish Government to support the provision of a £1.68 million magnetic resonance-guided focused ultrasound device to help people with essential tremor.
An estimated 4,000 people in Scotland have essential tremor which causes involuntary trembling and can afflict any age, gender and race.
While Mrs Ramsay would not benefit from the ultrasound treatment herself, she is passionate that others should.
Her petition, which is supported by Highlands and Islands MSP Rhoda Grant, will be heard by the Scottish Parliament's public petition's committee on Thursday.
The committee previously agreed the treatment had benefits and asked the Scottish Government why a decision has stalled.
Mrs Ramsay, 64, who chairs the Scottish Tremor Society, said: "I am really pinning my hopes that at last there will be movement on this by the government.
"The effects of essential tremor can have a serious impact on a person's life, with lack of understanding and awareness of the condition leading to ineffective treatment but also bullying. I want to prevent any child or adult going through verbal and physical abuse like I did."
She said the main treatment at the moment is deep brain stimulation (DBS) which some people with the condition do not want, while the focus scanner is cheaper and a less invasive procedure.
Mrs Grant added: "At a time when the NHS is under severe pressure, I really believe that this innovation, which is already up and running in England, would not only save money in the long term but would really improve the quality of life for thousands of people.
"Mary has been a fantastic campaigner and has never given up and it would be a great day for her if she achieved her aim to help others."
A Scottish Government spokeswoman said: "NHS Scotland National Services Division is continuing to engage with clinicians and commissioning colleagues to assess how magnetic resonance-guided focused ultrasound (MRgFUS) might be made available to Scottish patients living with essential tremor.
"The Scottish Government is committed to making sure all those living with neurological conditions in Scotland are able to access the best possible care and support, and benefit from healthcare services that are safe, effective and put patients at the centre of their care."
The National Tremor Foundation (NTF) says essential tremor is one of the most common neurological movement disorders and is estimated to be eight to 10 times more prevalent than Parkinson's disease.
Sufferers exhibit a rhythmic trembling of the hands, head, legs, trunk and/or voice and in most cases it is inherited.
Many people feel so embarrassed by their tremor that they do not leave home and it can affects their jobs and lead to depression.
As many as 25% of patients are forced to retire prematurely, and in one study 60% said they had chosen not to apply for a job or promotion because of uncontrollable shaking.
In a recent survey by the NTF almost 20% of respondents had to stop working completely, 7% had to change occupation, and 6% had to reduce their working hours.
Also, 12% said that they did not go out to socialise, 31% did so rarely and 21% reported a severe impact on their mental health.
At present, the only non-pharmacological treatment is deep brain stimulation (DBS), invasive surgery involving wires being permanently inserted into the brain.
A specialist scanner that uses MRI imaging allows surgeons to perform very small incisions in the brain using high-powered, focused ultrasound. It can be used for people with essential tremor and Parkinson's disease, and potentially for those with multiple sclerosis who have severe tremor.