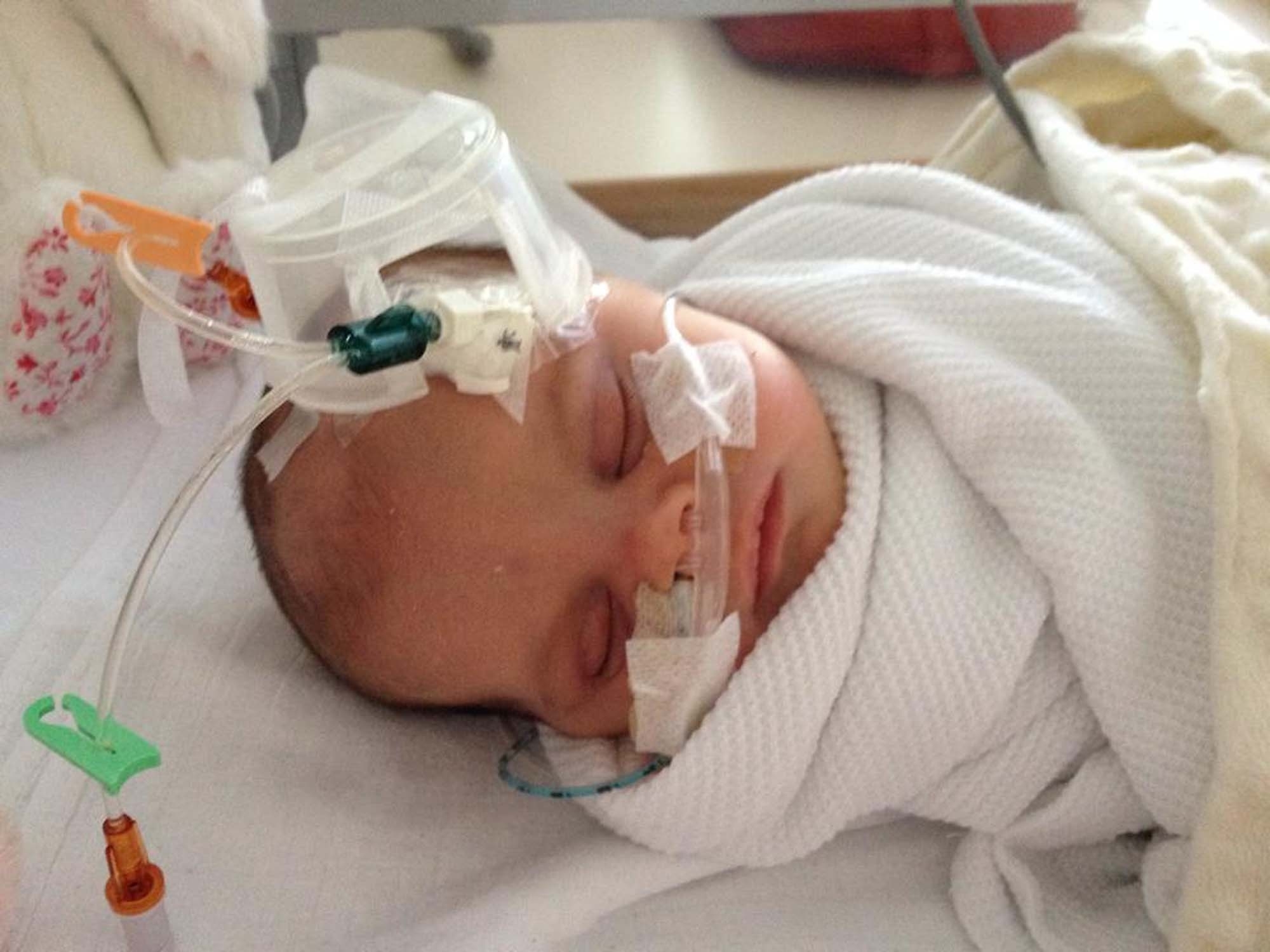 Baby Skye Edwards is her parents' pride and joy – but at just a day old she had to be airlifted 170 miles and kept in a drug-induced coma to survive.
The 16-week-old was so ill following a mystery complication in the womb that her devastated parents were told if she had arrived three hours later she would have been stillborn.
Skye was covered in bruises, a rash and had severe heart, lung and blood problems following birth.
The tiny newborn's organs began to shut down and her bone marrow production was "suppressed to the point of failure", leaving her with a high risk of internal bleeding.
Just hours later, the hospital chaplain was called to say prayers for her and family travelled from across the country to say their hellos and tragic goodbyes, as the infant was not expected to live.
But somehow, against all odds, Skye has stunned medics and her parents, Gemma and Craig, by making a full recovery.
Mother Gemma Edwards, 33, from Inverness, said: "I've never been a believer in miracles, but Skye genuinely is a miracle.
"Within 24 hours of being born she really went downhill; we were told everything was going wrong.
"She had heart and lung problems. Her [blood] platelet level was only seven when it is normally between 150 and 450, and anything below 20 there is a danger of bleeding out.
"Her haemoglobin, which helps distribute oxygen around the body, was also only at 60-odd and you get a transfusion at 80.
"She was pretty much a goner."
Skye was delivered by caesarean section, as it was unclear if her mum would be able to give birth naturally because she had an extra bone in her pelvis, close to the birth canal.
Gemma decided to go into hospital four days before her due date.
If she had waited just three hours longer Skye would have died in the womb.
Gemma said: "We might never know what caused this, other than it was a consequence of something that happened to her just before birth.
"They [doctors] tested for everything – antibodies, infection, problems with platelet [a blood component that aids clotting] production; they said she may be missing a bone in her arm and the doctors even thought it was to do with a collection of blood cells on the liver, but everything medically-known was ruled out.
"It's very hard to say it's just one of those things. But we were told if she had been born three hours later she would have been stillborn.
"She is a very lucky girl."
Like all first-time parents, the Edwards' were overjoyed when Skye was born at Raigmore Hospital, Inverness, on April 20, weighing a healthy 6lb 14oz.
But that joy was short-lived when it became clear their baby girl was seriously ill.
Mrs Edwards said: "When she came out she let out a tiny whimper. She was ok at that point but we knew she was struggling.
"They were all very calm in the operating theatre, but later on we knew how serious it was.
"The chaplain was called and we were told to take photos of her.
"Our family came up from all corners of Scotland to say bye to her."
Doctors battled for 24 hours to keep her alive in the hospital's special care baby unit.
There was nothing else they could do for her and they held out zero hope of her surviving a journey to another hospital for specialist care.
But remarkably they managed to stabilise her and, in a last-ditch attempt to save her, a specialist neonatal ambulance team from Glasgow flew to Inverness and airlifted the baby 170 miles back to the city's Yorkhill Children's Hospital.
Her devastated parents had to follow by car.
At just 36-hours old Skye was then placed into a drug-induced coma to allow doctors "to take back control of her body".
Gemma held her baby for the first time, while she was in the coma.
She said: "I was just in pieces. [In Raigmore] her heart was racing out of control and she was not breathing properly.
"But I remember when I waved her away [in the air ambulance] I thought if that's the last moment we spend together as a family, it was a nice moment.
"She was wide-eyed and looked scared. But she always knew who her mum and dad were."
Skye was kept in a coma for two days and spent a week on a ventilator in the neonatal intensive care unit, before she was flown back to Raigmore.
Gemma said: "She was in multiple organ failure and the doctors kept saying they were doing all they can, but I just went into denial.
"It was only when she was flown back to Raigmore that I started to realise what had happened and I just thought, 'Oh my God, she could have died.'"
But just days after being transferred back to Raigmore her platelet level plummeted to just 18, leaving her susceptible to severe internal bleeding again.
A lock of Skye's hair, removed when she had a scan to check for bleeding to the brain, however, provided her with huge comfort when she was at home without her baby.
Gemma said: "It was really hard. "I was at home without her and we kept getting told bad news."
"Her hair was put in a little tube and I just clung to that. I slept with it on my heart.
"My brother got Skye a teddy and I ripped it open and put the lock of hair in this teddy. I couldn't go to sleep without it. That teddy was a great comfort to me because I always felt that Skye was with us."
But the ordeal proved too much for the mother and she needed support from a mental health counsellor, to acknowledge what was happening to her baby.
At night, as she thought about Skye clinging to life in hospital,  she also turned to social media to help her cope.
She set up a Facebook page to let people know about her daughter's incredible journey.
She also set up a justgiving page and raised more than £3,200 for the Ronald McDonald House, where she and her husband stayed during their daughter's brave fight for life in Yorkhill.
Gemma said: "Social media helped me a lot because it made me feel like I was not alone. Everyone was praying for her and lighting candles and it helped lift my mood.
"Now every day we are looking at a miracle. She's still here and to be well and making a full recovery is just astonishing."
The couple received the welcome news that Skye was on the mend two weeks ago, after a sample of bone marrow was taken under general anaesthetic.
Now, after a total of five platelet transfusions and two blood transfusions, Skye's bone marrow is working as it should and her platelet level is currently at 130, and rising.
They are still waiting to hear the result of one final bone marrow test but doctors have said they are confident there will be no lasting health issues.
Her proud dad, Craig, a teacher, who has now signed up to become a platelet donor, said: "For her to come so close to the end of life and be fine now is unbelievable.
"It was quite an emotional time, especially saying goodbye before she was airlifted to Glasgow because I didn't know if she was going to make the journey. She was connected to every wire possible, but it was great relief when we got to Glasgow and saw her there.
"I'm still a bit cautious to say she's made a full recovery. But it's nice to be out of the woods.
"I can look at her now and enjoy her but also enjoy thinking about the future; kicking a ball with her, taking her to her first dance class and going to school. Before, we couldn't think ahead because we were always, 'is she going to make it?', is she going to be here in the present?"
"Now to not get any sleep and have sick down my back, it's great. That's what we were preparing ourselves for as first-time parents."
And he said they definitely picked the right name for their little girl.
"We named her Skye long before the birth, which is ironic because she has already been up in the sky twice, so I think we chose the right name; it was meant to be."
The family is continuing to raise money for the Ronald McDonald House in a bid to help other families, who have to stay miles from home to be with their sick children.
To support their fundraising drive, visit www.justgiving.com/prayforabetterskye