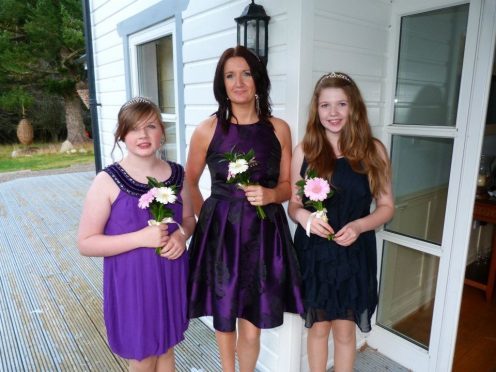 The mother of an Inverness teenager who died in a road accident has spoken for the first time about the loss of her daughter, who she misses "every single minute of every day".
Georgia Gilham, 16, died in the crash on the outskirts of the city with her 18-year-old friend, John Foggo, from North Kessock.
On Saturday, Miss Gilham's ashes were scattered at the site of her beloved Belladrum festival, where a handcrafted bench has been installed as a lasting tribute.
And yesterday Georgia's mother Debbie told The Press and Journal about life without her daughter and how the teen had been making plans for a future career just days before she died.
Mrs Gilham said: "I miss her every single minute of every day, as do the rest of the family and her friends. Her smile with her wee dimples would brighten up anyone's day, and that is what her friends commented most about, her infectious smile and contagious laugh.
"There is a huge gap in all our lives now, which will never be filled. But we are all supporting each other, and making plans to ensure that Georgia will never be forgotten".
As well as the tribute bench, Mrs Gilham said that after Georgia's funeral, several yellow rose bushes – the same as Mrs Gilham's wedding flowers – were sent out to Georgia's close friends and relatives in Inverness, Aberdeen, Lewis and Skye.
She added that the flowers, named "Teasing Georgia" roses, were planted in large blue pots to represent her daughter's love for the popular animated Minion characters, a spin-off from the family comedy movie Despicable Me, who are yellow with blue overalls.
Yesterday, Mrs Gilham also spoke about her daughter's passions and ambitions in life.
She said that her daughter, a fifth year pupil at Culloden Academy, studied music in school but tended to loathe singing in front of her classmates, despite her talent.
Mrs Gilham added: "Following the accident her music teacher did find a piece she had recorded, a cover of Someone Like You by Adele, and there were also a couple of clips recorded on her i-pad, two pieces of her singing, and it's just so lovely to have them".
Mrs Gilham went on to say that just before the accident, her daughter had made the first steps towards her future ambition of starting her own dog walking business, applying for a part-time job at Pets at Home.
She added: "When filling in the application on the Tuesday she said to me, 'are you not buzzing for me, mum?', and then the accident happened on the Thursday."
The handmade bench bearing Georgia's name will remain in place during this year's Belladrum festival. Mrs Gilham said that Georgia had been to the event four times and had bought a ticket for it this year, and was especially looking forward to seeing Lucy Spraggan.
Following the festival the bench, carved by family friend David West, will be kept at Culloden Academy for what would have been Georgia's last year in school, allowing her former classmates to remember her.
The bench is inscribed with the tribute – "Sit and remember when we danced here. Remember how much we laughed. Remember our friendships which meant everything to us and always will."