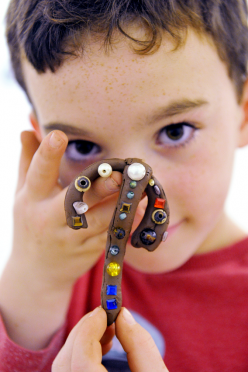 Moray youngsters have been getting crafty while learning about the region's Roman history.
Budding archaeologists have been using clay to sculpt recreations of exhibits at Elgin Museum to learn more about the ancient empire.
Children moulded clay into intricate shapes before pressing colourful jewels into them for decoration.
By the end of the afternoon dozens of brooches were lined up along the length of the stage at the museum to replicate a jewellery box from the past.
Nine-year-old Bill Symon, from Forres, moulded the clay into the shape of a bow and arrow while his seven-year-old sister Imogen made a bangle.
Di Hannan, education and outreach officer at the museum, said: "Roman finds do come up in this area occasionally. Of course there was the hoard of coins found at Birnie.
"Archaeology is fascinating in itself though. The idea you can find something in the ground that hasn't been seen for hundreds of years is amazing.
"We have Roman brooches in our stores and they are just beautiful. It's a good way of getting children interested in seeing them."
The events have been run at the museum as part of the Highland Archaeology Festival. Earlier in the week youngsters delved back to Pictish times to create their own settlement from cardboard roundhouses.
On Friday the workshops will focus on making seals that were used to enclose letters with heraldic and family symbols in the 14th Century. The event runs at the museum from noon to 2pm.