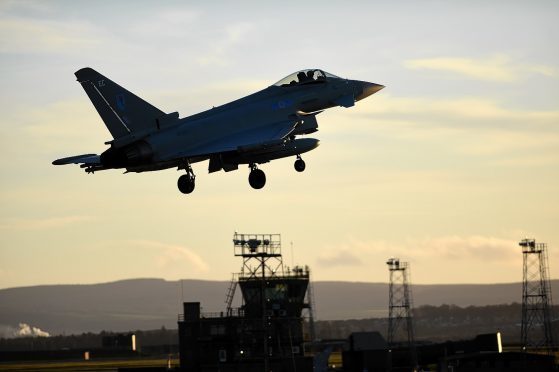 Top guns from RAF Lossiemouth have brought Islamic State to breaking point after a series of strikes aimed at liberating the terrorist group's last stronghold in Iraq.
Typhoons from the Moray base have helped drive IS troops from Mosul over recent days, and their activities will intensify as the Iraqi Army steps up its efforts to retake the northern area.
Air force aces have wiped out weapons reserves belonging to IS.
They deployed a guided bomb to explode a truck the terrorists had filled with bombs to the south of Mosul, and obliterated a stockpile of deadly weapons north of the city.
The Ministry of Defence (MoD) last night confirmed that pilots from Lossiemouth and the RAF Coningsby base in Lincolnshire had played a crucial role in the ongoing effort to pound IS into submission.
It is believed that 5,000 IS fighters remain in Mosul, which remains their last stronghold in Iraq.
But US military sources yesterday said the terror group's leaders were fleeing the city.
Those remaining are expected to strongly resist efforts to rid them from the area, and it could be a further fortnight before Iraqi troops are able to enter the city.
On Monday, RAF fighter jets destroyed a truck filled with explosives using a Paveway IV guided bomb.
Then, on Tuesday, Typhoon pilots fired on a cluster of improvised explosive devices, a weapons stockpile and an IS defence position to the north-east of Mosul.
An MoD statement said: "RAF Typhoons and Reaper remotely piloted aircraft have continued to provide close air support to the Iraqi and Kurdish forces advancing on Mosul.
"On Tuesday, a pair of Typhoons used Paveway IVs to destroy a number of improvised explosive devices laid in a defensive belt, as well as a weapons stockpile and a Daesh (IS) strongpoint."