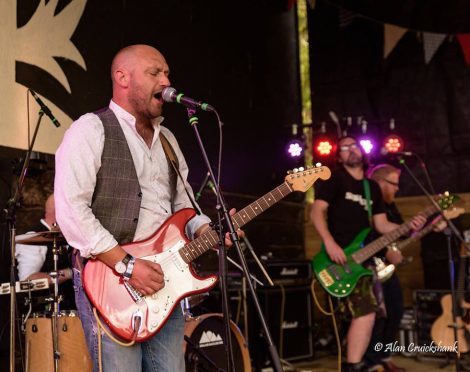 A Moray band is hoping 2017 will be their breakout year as they take to the stage in Glasgow for the final of a national contest.
Edgar Road will perform at the city's O2 ABC venue on Sauchiehall Street in January.
The five-piece group triumphed over hundreds of other bands from across the UK to make it to the final of the Soundwave music competition.
And, if they come out on top, Edgar Road will win a coveted slot supporting an "A-list talent" later on in the year.
The group, which is named after a street in Elgin, started playing together in 2014 but have struggled to find opportunities in the local area.
Members Mark Conti, Michael Byiers, Simon Watterson, Allan Hall and Magdalena Wellenger are now practicing for the most important show of their career.
Mr Conti, who plays guitar and sings in the band, described their sound as "alternative rock, with melodic pop elements".
He added: "We don't get to gig that often, and mainly just play the occasional festivals because it can be difficult to find slots for original music in the north.
"We are trying to create some buzz down south, so we can play there as well as at a few key spots up here.
"If we win, and get to support a famous band or artist, that would help in getting a label to take an interest in us.
"We have all put a lot of effort into it, but we love what we do."
The band first submitted video samples of their music to the competition in March, when judges selected 370 acts to progress in the competition.
Edgar Road made it through subsequent rounds as the number of groups taking part was whittled down.
Mr Conti added: "We were invited to Glasgow to play a closed door audition in front of the judges, and got through that.
"Then we had to play before an audience, and we advanced again.
"We are really chuffed that, out of the 370 bands that first got through, we are now down to just a handful left."
The group will compete against 14 other bands during the final in Glasgow on Saturday, January 14.