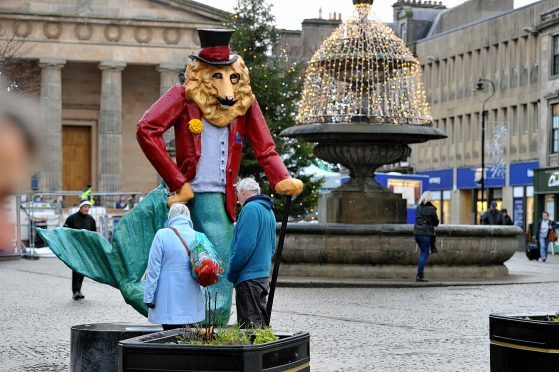 Moray Council has been urged to canvas opinion on whether to maintain a divisive statue in the heart of the region's biggest town.
The Dandy Lion sculpture was unveiled along with two others in Elgin at the weekend.
The colourful monument depicts a lion with a fish's tail, with several aspects designed to represent parts of the town's past.
Its creator, Vik Quickly, hopes the "quirky" piece will prove a hit with children and bring people flocking into the town centre to be photographed with it.
The statues were funded by the Castle to Cathedral to Cashmere scheme, which Moray Council paid £120,000 towards, to help highlight Elgin's history.
But Fochabers Lhanbryde councillor, Sean Morton, described the 10ft piece as "cultural vomit in technicolour".
And Councillor Morton last night called on the local authority to survey residents on whether they want it to stay in place on the Plainstones.
He said: "This is undoubtedly not what public money should be spent on.
"I wouldn't go as far as to say it should be scrapped, but I do believe it should be up to the public whether it is should remain.
"People are justifiably upset about it."
Last night, Castle to Cathedral to Cashmere leaders explained that opinions on the sculptures were collated during the summer, prior to the final designs being chosen.
Board member, Ian Urquhart, said: "The Dandy Lion is one of three sculptures chosen from a competition, the aim of which was to spark the imagination of those who live, work and visit this area.
"The review panel featured members of the Castle to Cathedral to Cashmere Partnership and external advisors, who chose four designs from 10 proposals received.
"After evaluating each concept, the four designs were put on public display in June for comment and three were chosen.
"There were more than 750 positive responses and we were particularly pleased to see positive engagement from young people."
Artist Ms Quickly has set up a Facebook page for people to post "selfie" photographs taken beside the statue, named Unofficial: Dandy Lion Sculpture.
Moray Council declined to comment on the aesthetics of the statue, but confirmed that £120,000 of local authority funding had been ploughed into the overall Castle to Cathedral to Cashmere scheme.