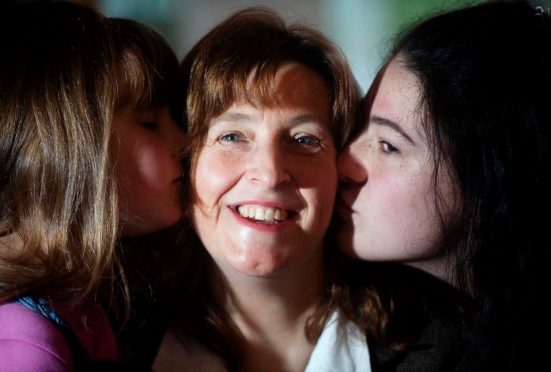 A teacher saved by a quick-thinking mechanic after her heart stopped is campaigning for businesses and schools to train staff in CPR.
Doreen McClelland-Jones collapsed while dropping her car off for an MOT.
The 43-year-old slumped in the waiting room of Sandy Reid's garage in Elgin and "turned blue" as staff raced to help and called 999.
And in the crucial minutes before the ambulance arrived, a mechanic – who happened to be a retired firefighter – started pressing the mum of two's chest in a desperate attempt to keep her heart beating.
Mrs McClelland-Jones was rushed to hospital, and woke up at Aberdeen Royal Infirmary several days later with no memory of what happened.
It has taken months for her to recover, and now – just days after she was finally able to return to work – she is keen to raise awareness of the need to have people trained in CPR so they can replicate the life-saving skills performed on her.
She said: "It's so important for people to have the ability to do CPR. I was so fortunate to find myself in a place where somebody knew what they were doing.
"I could easily have still been on my run when it happened or walking in the street in Elgin where nobody noticed the symptoms.
"I wouldn't be here to tell the story if I hadn't been lucky enough to be there at that time.
"It was so fortunate there was a retired firefighter who worked there who had the training."
Mrs McClelland-Jones, of Urquhart, took unwell last May, as she drove into Elgin to drop her car off after going for a run.
As she made her way into the town she began to feel confused and disorientated, and had to phone the garage twice for directions.
Mechanics eventually went out into the street to find her to get her vehicle onto the forecourt, before she collapsed and her heart stopped beating.
The mother-of-two, who considers herself to be a fit and active person, was rushed to hospital.
Defibrillators had to be used several times to kick-start her heart during the journey to get specialist treatment.
After a short spell in hospital, the language support teacher was allowed home but continues to take medication.
She said: "I always thought heart problems were going to affect someone who's a smoke, overweight or diabetic – if it can happen to me it can happen to anyone.
"It's so important that everyone knows how to perform CPR. I know people can be worried about performing the kiss of life but it doesn't necessarily need to be that.
"I know schools have all been equipped with defibrillators but it's essential people know how to use them instead of them being forgotten about in cupboards.
"There's free training for people out there too – but how many actually take it up?"
She added: "I'm back at work now but I doubt I'll ever get back to running. Everything is just so tiring at the moment."
Since the traumatic event Mrs McClelland-Jones's 16-year-old daughter Alina has received her own CPR training so she can repeat the skills that saved her mother's life.
A British Heart Foundation (BHF) spokeswoman said: "What happened to Doreen is a great example of what we call the 'chain of survival' – call 999, start CPR straight away and use a defibrillator if there is one.
"BHF has placed a 'call push rescue CPR' learning kit in every single fire station in Scotland that the community are entitled to borrow and use for free to learn CPR."
The charity also runs free CPR training courses. Details can be found online at www.bhf.org.uk