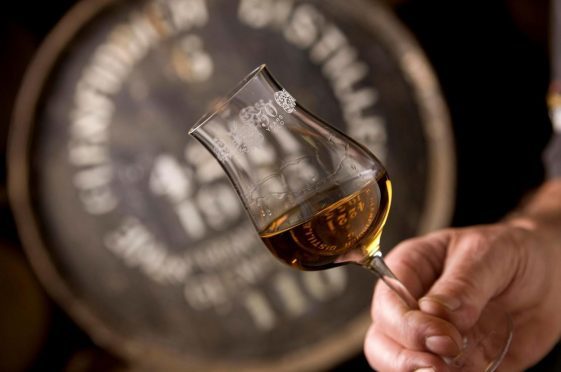 Whisky workers have called on the UK Government to introduce special measures to shield the £5billion industry from Brexit uncertainties.
Last night, the effect on the drinks trade was described by the Scotch Whisky Association as the ultimate test of the country's success in leaving the EU.
The claim came on the same day the GMB union asked for guarantees from Westminster, similar to those given to car giant Nissan, amid fears the latter would leave the country after last year's referendum vote.
The company praised the "support and assurances" of the UK Government while pledging to stay in Sunderland.
Now, the GMB, which represents whisky and spirit workers, has written to Scottish Secretary, David Mundell, urging him to provide the same backing.
The union's Scotland organiser, Louise Gilmour, said: "Whisky is a massive success story for Scotland – and the UK – but we need the government to back us up in the months and years ahead.
"Westminster was quick to pledge support for Nissan – which is also vital for the economy – but it is, frankly, dwarfed by the size of the whisky industry."
Fears have been raised that rural areas, where it is estimated about 7,000 jobs rely on the industry, could be devastated if the industry is hit by extra taxes following Brexit.
World Trade Organisation agreements mean whisky is not subject to tariffs inside the EU, but £400million of exports go to international markets where deals were agreed in Brussels and could be subject to extra fees in the future.
The Scotch Whisky Association's Rosemary Gallagher added: "We agree the success of the industry should not be taken for granted during a time of such change.
"As a major manufacturer and exporter, the continued growth of Scotch will be a litmus test of the success of the UK's exit from the EU."
Moray MSP, Richard Lochhead, has backed the call from GMB and demanded guarantees were put in place for the industry.
He said: "If the UK Government can't guarantee the industry's future and make up for any damage, they should not be taking the industry out of the single market."
A UK Government spokesman said: "As we prepare to leave the EU, there has never been a better time to become more outward looking – developing new trading relationships and establishing our place as a truly global Britain."