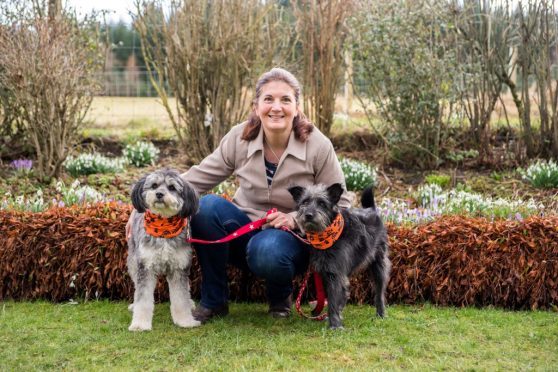 Two dogs rescued from atrocious conditions in Asian kennels, which housed more than 5,000 animals, are now thriving in Moray.
Sophie and Bintang were in danger of being turned into dog meat by criminals attempting to smuggle them into Vietnam illegally.
And, even after being freed by authorities in Thailand, the animals were held in a massive detention centre where diseases were rife.
Jacqui Kelly's heart melted when she saw the appalling privations to which the animals were being subjected.
The 57-year-old, who used to train sled dogs at her home near Keith, brought Bintang to Moray three years ago before recently welcoming Sophie to the growing family.
She said: "Once these dogs are stopped at the border, they get kept in a government holding shelter. It's designed for 1,000 dogs but at times there are more than 5,000.
"My heart just broke when I saw the photos of so many poor dogs, some of which were stolen pets like Bintang.
"So many of them don't survive due to disease or dog fights. It is just horrible."
After paying to have the dogs taken out of the kennel to live with a Thai family, Mrs Kelly subsequently paid the £700 adoption fee to have both canines flown to the UK to start a new life.
Each pet was forced to go through an arduous six-month series of injections to meet strict quarantine and vaccination requirements.
But, despite all their travails, the dogs have emerged with their vigour undiminished and are now living life to the full in their Moray home.
Mrs Kelly added: "When they arrived in Edinburgh, I couldn't wait to give them a cuddle, but I had to fill out a lot of paperwork to receive them first.
"They love it here. Bintang is right at home now, she loves the beach at Lossiemouth. Bintang means 'star' in Thai and she is certainly a bit of a diva."
"Sophie only arrived in September, so can't go off the lead yet – she would just run off, but she is getting there."