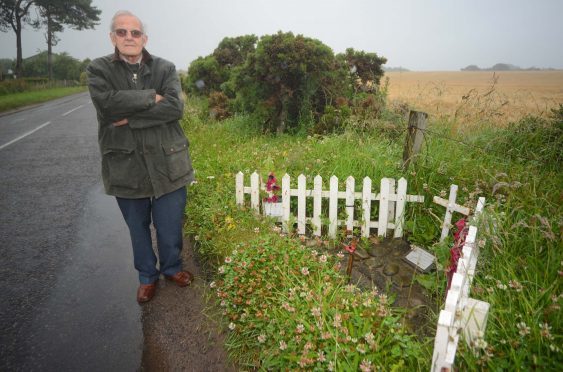 Generations of Moray villagers have spent decades ensuring that a tragic fighter pilot is remembered by maintaining a modest memorial.
The small roadside shrine on the approach to Garmouth, off the B9015 road from Mosstodloch, could easily be missed by motorists.
But for locals, it carries huge significance as a reminder of a World War II tragedy which took place 76 years ago today.
On July 8, 1941, Sergeant Leonard May was patrolling the skies around the village when his Hawker Hurricane aircraft collided with that of a colleague in mid-air.
The other man survived, but Sgt May was killed instantly when his Hurricane crashed into a field at Connegdale Farm.
His death may have been forgotten if not for Garmouth man Charles Howie, who made a simple cross out of metal, painted it white, and planted it near the site.
Over the years since, the memorial has been extended and a small white picket fence now surrounds a touching shrine.
Poppies adorn the fencing, and a model Hawker Hurricane has been fixed in place.
A plaque has been created, engraved with lines from war poet AE Houseman's Here Dead We Lie.
It reads: "Life, to be sure, is nothing much to lose. But young men think it is, and we were young."
Fochabers 82-year-old, George Cruickshank, visited the spot yesterday to mark the anniversary of the event which he witnessed as a six-year-old.
Mr Cruickshank was helping his dad, who worked as a butcher, deliver meat to Garmouth.
He said: "We came across the airplane as it was burning fiercely in the field.
"People told us they had seen the two aircraft collide, but only saw one man parachuting down.
"I still remember it clearly, it's just one of those things you don't forget."
The retired engineer now regularly volunteers at Fochabers Folk Museum and Heritage Centre.
He has helped compile a book about the impact World War II had locally, entitled So Dauntless in War.
Chairman of the Garmouth and Kingston Amenities Association, David Mackay, said villagers have taken it upon themselves to keep the memorial tidy.
He added that on Remembrance Sunday each November, residents lay wreaths at Garmouth's war memorial statue and then carry out the same tribute at the roadside spot.
When tragedy struck
Aircraft patrols in Moray were at a peak during the summer of 1941, as British efforts were concentrated on training fighter pilots to fly bombers into combat.
The skies were also busy with craft protecting RAF Lossiemouth, following a deadly Luftwaffe strike the year prior.
Hawker Hurricane pilots stationed at the Bogs of Mayne airfield near Elgin were charged with watching over the base.
They would intercept any German aircraft posing a threat to the Lossiemouth base, RAF Kinloss and RAF Forres.
In June 1941, pilots from the 17 Squadron at RAF Castletown in Caitness were deployed to patrol Moray and keep the enemy at bay.
It was only one month into that deployment when tragedy struck.
On July 8, 1941, Pilot Officer M.E Sheldon and Sergeant Leonard May took off from Bogs of Mayne airfield on a routine patrol.
The squadron colleagues' Hurricanes came into collision between Garmouth and Fochabers.
Both aircraft were badly damaged and only Pilot Officer Sheldon managed to parachute from his P2874 machine to safety.
Little information is known about Sgt May, who died in the wreckage of his P2724 Hurricane.
The plaque honouring him was installed by Elgin man Jim Hughes, and Mike Forsyth, of Urquhart almost a decade ago.