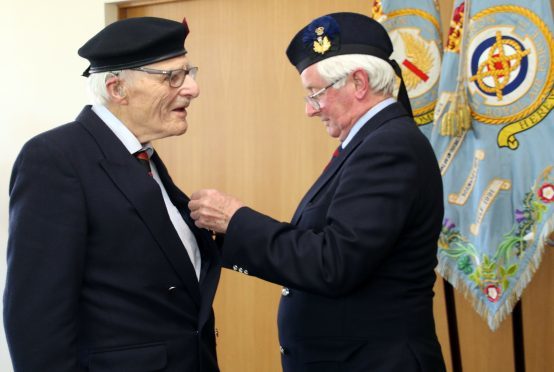 A war veteran has been presented with his military honours more than 70 years after surviving the D-Day landings.
Colin Clements began his World War II service on June 6, 1944, as he took part in the famed Allied invasion of German-occupied France at Gold Beach.
But it was only last year that the 92-year-old, who splits his time between Somerset and Fochabers, discovered that he was entitled to various service medals and applied to receive them.
After learning about Mr Clements's war record, staff at RAF Lossiemouth organised a special ceremony where the four gleaming symbols of his heroism were finally pinned to his chest.
The pensioner was presented with the accolades by the Lord Lieutenant of Moray, Grenville Johnstone, in the officers' mess.
He received the 1939-45 Star, the France and Germany Star, the War Medal 1939-45 and the General Service Medal 1918-62 with Clasp Palestine 1945-48.
Mr Clements last night said he felt "extremely lucky" to have survived the war, and said the recent presentation had made him reflect on his time in the forces.
He said: "I went to a commemoration event in Normandy and noticed all the other veterans stood out by having their medals on.
"I am very proud of being part of my regiment, and now I am able to reflect that on official occasions."
Mr Clements, the son of a missionary, was born in China in 1925 and volunteered for military service aged 18 after returning to the UK.
He served as part of the 4/7th Dragoon Guards and braved heavy fire as he made his way onto Gold Beach in an amphibious tank on D-Day.
His tank was hit twice amid relentless shelling by German forces.
Following the Normandy campaign, Mr Clements' regiment helped liberate Lille and Brussels, and rescued paratroopers from Arnham.
And in 1946, the they travelled to Palestine to help keep the peace.
Mr Clements was demobbed in 1947 and later ran a string of successful businesses.
RAF Lossiemouth Wing Commander Dan Lunnon-Wood lives near Mr Clements in Fochabers and enjoys hearing about his historic exploits.
Wg Cdr Lunnon-Wood, who organised the presentation ceremony at the base, said: "Mr Clements's life is a bit of a 'boy's own' story.
"I've enjoyed many hours in his company hearing about his incredible military career."