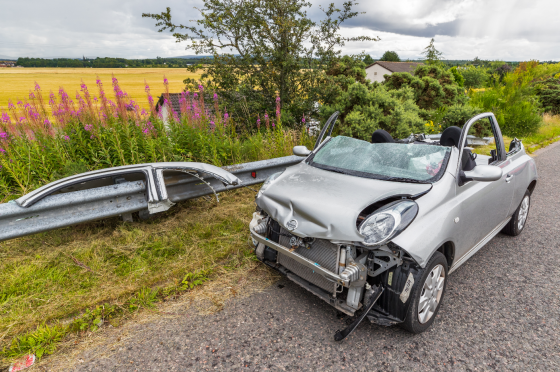 Firefighters had to cut the roof off a car to free a trapped casualty after a serious crash on a Moray Road yesterday.
A 64-year-old woman was taken to Dr Gray's Hospital in Elgin after the two-vehicle collision on the A96 Aberdeen to Inverness road just west of Forres.
Officers were sent to the accident near the Mundole junction at around 12.20pm.
The incident is understood to have involved two Nissan Micras, one blue and the other silver.
The rear bumper was left hanging off the blue car but the silver vehicle appeared to suffer the worst damage.
Two fire engines were sent to the scene.
The firefighters used specialist equipment to free the woman who was trapped in the car.
The road was partially blocked after the accident, but it reopened fully after the cars involved were moved to the roadside.
Neil Macleman – who was behind the silver car at the junction and witnessed the collision – described the noise he heard.
He said: "I was pulling up to the junction for Mundole on to the A96 with a Micra in front of me.
"The next thing I heard a mighty awful bang and the tail of the car swung right round before it came to a standstill."
He added that there were three passengers in the blue Micra who appeared to be "all shook up", but that they didn't look to have any major injuries.
An ambulance spokeswoman said: "An ambulance arrived at the scene.
"One casualty, a 64 year old female was taken to Dr Gray's hospital in Elgin."
A police spokeswoman said: "We received a call at about 12.20pm to a crash involving two vehicles.
"The fire service and an ambulance were called to the scene and the female driver of the silver car was taken to hospital as a precaution."